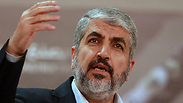 Khaled Mashal: We call on the nation to be angry
Photo: AFP
The political leader of Hamas, Khaled Mashal, called Thursday for Muslims to defend the al-Aqsa mosque compound in Jerusalem, saying Israel was trying to seize the site, which is revered in both Islam and Judaism.

Mashal, speaking in the Qatari capital Doha where he lives, said: "We call on all our people inside the country to hurry up to al-Aqsa to defend it."

The site has been the location of clashes between Palestinians and Israeli police earlier this week when security forces arrived for what a police spokesman said was an attempt to stop the Palestinians from "staging a riot and disrupting visits".

Related articles:

Mashal accused the Israeli government of taking advantage of Arab preoccupation with regional turmoil, particularly in Syria and Iraq, to try to take over al-Aqsa, the third holiest shrine in Islam - also revered by Jews as the site of the two ancient Jewish temples.

"We call on the nation to be angry and to send a message of painful anger to the world that the Palestinian people, the Arab and Muslim nation, will not be silent at the Israeli crime," Mashal said.

Palestinians accuse Israel of trying to restrict their access to the mosque in the Old City of Jerusalem to allow Jews to pray there, something which is banned under a long-standing agreement between the two sides. Orthodox Jews, meanwhile, are pressing for easier access to the compound.

Prime Minister Benjamin Netanyahu has denied there are any moves to restrict Palestinian access to the compound and blamed Palestinian extremists for the violence.




Asked if he was worried his call may lead to a new conflict soon after 50 days of fighting between Hamas and Israel in Gaza, Mashal said: "Nobody wants a war, but it's our right to resist and preserve our rights. We are under occupation ... We have been resisting for one hundred years and will continue.

"Al-Aqsa is worth us becoming martyrs for, and anyone who can carry a weapon in the region should go and defend it, as this is the true meaning of jihad."