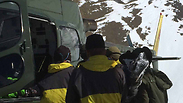 Rescue team evacuate injured
Photo: AFP/Nepal Army
On their way down from the Thorong La pass in Nepal, the exhausted and freezing Israeli hikers noticed a hand peeking out of the snow.

"We came closer and saw there was a living person there," said Tom Selah. "We pulled him out of the snow and immediately realized his situation was very serious," she added.

The survivor, to their surprise, turned out to be a fellow Israeli.

Two of the hikers, Ron Aron and Koby Magrali, medical students, realized the man was suffering from hypothermia and started treating him immediately.

"We collected sleeping bags and covered him so his body temperature won't drop," Magrali said. "You could say we saved his life. We went on a trip during the semester break and found ourselves in an once-in-a-lifetime catastrophe."

Ten hikers remain missing, Nepal police said on Thursday, but rescue workers and witnesses put the number higher, including porters and villagers trapped up high when the blizzard struck.

Searchers dug out of the snow an Israeli tourist who had been buried up to his neck for 48 hours and took him to hospital, said Baburam Bhandari, governor of the Mustang region near Tibet that took the brunt of the blizzards and avalanches.

"By the end of the day today we hope to clear the entire district," said Bhandari, adding that rescue efforts were focused on the upper stretches of the 5,416-metre-high (17,769-foot) Thorong La pass.

"This means we will complete the search for all people reported missing or in trouble," Bhandari said on Friday.

A team of about 60 soldiers and police used shovels, ropes and ice axes to dig through deep snow near the pass. Helicopters aided the search.

With weather conditions improving, helicopters expanded their search area, looking for people who took shelter in small lodges and huts dotted along the Annapurna trail, where deep snow has made movement on the ground extremely difficult, said Baburam Bhandari, the top government official of the Mustang district.

Helicopters rescued 40 trekkers Friday, and received information about another 50 people stranded but safe in another village, he said.

Authorities rescued 78 trekkers from Mustang and 157 from the neighboring Manang district on Wednesday and Thursday.

Samten Sherpa of the guiding company Snow Leopard Trek said dozens of foreign trekkers were stranded at Tilicho lake, a picturesque hiking destination at 5,000 meters (16,400 feet), a little off the Annapurna trail. No one has been able to contact them for two days, and he said only two small lodges were at the lake.

Maya Ora, Koby Magrali and Linor Kagan recount experience (צילום: רויטרס)

Israel's ambassador to Nepal said 13 Israelis had been admitted to hospital but "many more" were still out of contact. "We hope they are safe but it is important for us to get a sense of the situation they are in," said envoy Yaron Mayer.

The Foreign Ministry put the number of Israelis still out of contact at 127 on Friday. The ministry believes these hikers were unharmed by the blizzard and avalanches that followed, but there is still fear for the life of 36-year-old Michal Gili Charkesky from Givatayim, who has yet to make contact. So far, the ministry was able to contact over 200 Israelis who were in the area when the blizzard hit.

Army and civilian teams have brought down more than 150 tourists, many who had taken shelter in the small guest houses and tea shops that line the popular Annapurna route.

Eitan Elkayem, 56, and his partner Yael Moran, also survived the horrible blizzard in the Annapurna Mountain Range that claimed the lives of 29 people, three of them Israelis: Tamar Ariel, Agam Luria and Nadav Shoham.

The dead also included trekkers from Canada, India and Poland, as well as Nepali guides and herders, drawn by the peak hiking season only to fall victim to unexpected avalanches and blizzards brought by a cyclone in India.

"It was a journey of survival," Elkayem said. "Those who stopped for even a moment started freezing. You see people who don't have any strength left, which you're not sure you'll see again, and you can't do anything."

The disaster struck a relatively safe trekking route - the Annapurna Circus on the 10th highest mountain in the world. The trek starts at 4,900 feet above sea level and reaches its peak at the Thorong La pass at 5,416 feet above sea level. There are two camps for hikers - Base Camp at the bottom and High Camp at the top.

The weather also failed to indicate the trouble to come. October is considered the best month to go on this trek as far as the weather is concerned.

Israeli injured recounts experience (צילום: פליי-איסט נפאל)

"On Monday afternoon it started snowing, but it was light snow. The two camps were packed with people," Elkayem said.

"The next day at 6am we started going up. At this point I noticed we were experiencing atypical weather. The snow was falling through the night and the route was 60-70 deep in snow. We found ourselves in a column of hundreds of people.

"Around 9am we reached the top and encountered a wild storm; winds at 150kph that could really blow people away, very thick snow, and fog that doesn't allow seeing more than 2-3 meters ahead. The temperatures dropped to extreme minuses. If you strayed from the trail for even a moment, you would've found yourself up to your shoulders in snow."

In a small cabin, the "teashop" in the Thorong La pass, Elkayem and Moran met other Israelis.

"There was a group of 10-15 Israelis there that we met at High Camp the night before. I know for a fact one of them is no longer with us," he said. "Everyone tried to cram into the cabin. It was overcrowded and I felt like it was more dangerous inside than out.

"The porter (a local guide that carries the equipment) abandoned me and ran off. We decided we are not staying there. We thought if we went down a few hundreds of meters we'll get out of the clouds and the storm."

Seven Israeli trekkers decided to stay in the teashop in the hopes the storm dies down.

"In hindsight, this decision saved our lives," Selah said.

Getting there, she said, was a nightmare. "The snow was 1.5 meters high and I had to rent a horse to carry me, but it drowned in the snow too."

They stayed there for hours with some 50 other trekkers from other countries.

The decision to stay was not an obvious one. The teashop is a 5x5 meters cabin with a leaky roof that snow could penetrate.

"We hugged each other all night so we don't die of the cold," Linor Kagan said. "It was the longest night of my life."

The next day, when the storm subsided, the trekkers decided to continue on their way to the end point. A group of German trekkers with a local guide led the journey and the Israelis joined them.

"We walked through very deep snow for around six hours, until we saw helicopters that started picking us up," Selah said. "You try to convince yourself you're not about to die, but you can't help but think about it. We saw horrible things; people buried under the snow and bodies scattered everywhere. It was one of the worst things I've ever seen."

"When we were coming down I saw several porters struggling with loads on their backs," said 31-years-old Eitan. "Some of them fainted right in front of me and we could not help. They were cold and there was no one to help."

Eitan, who was speaking at an army hospital in the capital, Kathmandu, had severe frostbite on his fingers, which were swathed in bandages. Most of the survivors were only lightly injured. But M, one of the trekkers that left the teashop during the storm, suffered serious frost bites to his hands and feet.

"The porters told us that if we stayed in the teashop, we'll die, and despite the intense storm, it was better if we left. We went with one of the guides and at the middle of the journey he just left us. It was hard, but we had to carry on."

While the seven Israelis were taking cover in the teashop, Elkayem was already on his way down.

"It was a terrible seven-to-eight-hours-long journey," he said. "We thought the weather would get better but we were wrong, big time. The storm only got worse. And we weren't properly dressed for it - long johns and trekking pants over them and trekking shoes not meant for walking in the snow, and without storm suits or ski suits.

"The way down was exactly like the way up, except that this time there was no long and orderly column of people, but scattered groups with 100-150 meters between them. Those who stuck to a group and started going down early enough somehow made it down.

"But if you didn't have a porter or a local that could lead you, you were just lost. It was only a matter of time until you got stuck between the rocks. This is why some people died. The other reason was small local avalanches - there wasn't a big avalanche like in the Alps, but small local ones.

"We met an Israeli father and daughter who were buried up to their chests in snow. If you don't get yourself out in ten minutes, you get hypothermia and that could be the end.

"It was a journey of survival. An endless war. It was the cold, the conditions, the need to move all the time. If you stopped for even one second, you started freezing.

"You can worry about you and your partner, nothing beyond that. I was in Golani but I can't remember any situation in which both the physical and mental breaking points were so strongly tied together," Elkayem concluded.

Elkayem and his partner made it down safely. Tom Selah and the six other Israelis who stayed at the teashop with her to wait for the storm to subside also made it down okay. But three Israeli did not come back.

"Agam Luria was one of the most amazing people I've met," Selah said. "He was like a father to us, making sure we were all good. I'm not surprised he asked to be the last one to be evacuated."

Rotem Elizera, Daniel Batini, Yuval Karni, Reuters, the Associated Press and Itamar Eichner contributed to this report.