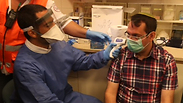 Ebola exercise at Ben Gurion Airport
Photo: Motti Kimchi
Medical and security teams at Ben Gurion International Airport held an exercise on Friday morning to simulate an arrival of an Ebola patient to Israel.

The passengers of the "suspicious" flight were asked to declare on places they visited in western Africa and report on their medical condition.

צילום:מוטי קמחי

"Sheba and Rambam hospitals are already prepared to take in Ebola patients in Israel," said Health Ministry director, Prof. Arnon Afek.

The new guidelines require passengers coming from 15 destinations in western Africa - including Liberia, Sierra Leon and Guinea - to answer questionnaires detailing Ebola symptoms. They will also be asked to declare their medical condition.

"If we identify a person who was in west Africa with a fever of over 38 degrees Celsius (100 degrees Fahrenheit) or one with symptoms like coughing, vomiting and diarrhea, an inspector would take that person to a clinic at the airport and decide in coordination with the Health Ministry whether to release or hospitalize him," said Rami Nir, the head of the ground operations in Ben Gurion Airport.

"The regulations allow us to enforce our authority even if a person refuses to cooperate, so the virus doesn't spread in Israel," he added.

During the exercise, a passenger arriving from Turkey was isolated and rushed to the clinic, where he was received by clinic staff in robes and masks.

After it was decided to evacuate the patient to Tel HaShomer Medical Center, he was taken by a Magen David Adom team, carried on a gurney with cover to isolate him from his surroundings in order to prevent the spread of the virus.

"This exercise is taking our readiness to the next level," the Health Ministry director said.

"Ebola is a very lethal virus, that still doesn't have a cure, but the positive thing is that it's less contagious than the flu.

"Recently, there have been many patients from western Africa, so we issued a travel warning to destinations where the virus could spread."

From Ben Gurio Airport, the pretend-patient was taken to the Sheba Medical Center. He was taken in an isolated gurney to an area the hospital has prepared to treat Ebola patients.

"What's more important to us is not the scenario raised in the exercise, but the scenario of a patient coming from the street and we need to identify him when he checks in to the ER. We've drilled that twice," said Prof. Ari Shamiss, the Director of the General Hospital at Sheba Medical Center.

"A person declared as an Ebola patient will not be hospitalized in the central hospitalization section to avoid public hysteria, he'll be outside the main building," Prof. Shamiss added.

In addition to the exercise at Ben Gurio Airport, similar exercises will be held in Sheba, Rambam and other hospitals in Israel.