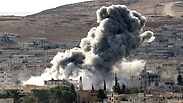 Airstrikes on Kobani
Photo: Gettyimages
US fighter aircraft launched six air strikes on Islamic State positions near Kobani, Syria, and its allies hit militant targets in Iraq, the US military said on Friday.

US forces damaged Islamic State fighting positions, vehicles and buildings near Kobani and a strike hit oil collection equipment near Shadadi in a bid to disrupt the militants' ability to operate oil tankers, Central Command said in a statement. The statement did not say which nations were involved in the strikes in Iraq near Baiji.




Earlier it was reported that Islamic State group jihadists were being trained by Saddam Hussein's former pilots to fly three fighter jets captured from the Syrian military, a monitoring group said Friday.

The planes, which are believed to be MiG-21 and MiG-23 jets, are capable of flying although it is unclear if they are equipped with missiles, according to the Syrian Observatory for Human Rights.

The jets were seized from Syrian military airports now under IS control in the northern provinces of Aleppo and Raqa, according to the Britain-based group, which has a wide network of sources inside the war-torn country.

Meanwhile, the head of US troops in the Middle East said on Friday Iraqi forces are "incrementally" recapturing ground from Islamic State militants who seized much of the country's northwest this year, but he added that major Iraq advances will take time.

"They are doing some things now to incrementally recapture ground that's been lost," General Lloyd Austin, head of US Central Command, said in his first news conference about the conflict. He cited the Kurdish operation around Mosul Dam and their recapture of the border post of Rabia.

Austin said US-led air strikes against Islamic State militants in Iraq and Syria were having an impact on the group, hampering their ability to travel in large convoys and gather en masse to carry out attacks.

The Army general said the main US focus was to "defeat and ultimately destroy" the Islamic State militant group by providing support to the Iraqi government and military.

He said the United States had intensified air strikes around the Syrian town of Kobani because an Islamic State offensive there had provided more targets to attack.

"In my assessment, the enemy has made a decision to make Kobani his main effort," Austin said, noting that it had continued to pour fighters into the town in recent days. "If he continues to present us with major targets, as he has done in the Kobani area, then clearly we'll service those targets."

He said it was "highly possible" Kobani could still fall into the hands of Islamic State militants, but Kurdish fighters had done "yeoman's work" and were fighting to regain territory.
Sniper threat
Sniper and mortar fire from jihadists are preventing authorities from evacuating civilians caught up in the battle for the Syrian border town of Kobani, a local official said Friday.
At the same time, Kobani district chief Anwar Muslim, said US-led air strikes had destroyed many Islamic State group vehicles and artillery pieces, and that the town's defenders are reinforcing their positions.
"There are civilians trapped in the centre and south of town, whom we cannot evacuate because of snipers and mortar fire," Muslim told AFP. "Their situation is difficult."
There are no precise figures on how many non-combattants remain in Kobane, also known as Ain al-Arab.
Last week, the United Nations spoke of as many as 700, mostly elderly, civilians being trapped in the centre of the town. Another 10,000-13,000 were said to be gathered near the Turkish border.
For its part, the Britain-based Syrian Observatory for Human Rights says there are hundreds of civilians in the centre and west of town and that many of them refuse to leave, preferring to die than go into exile.
Reuters and AFP contributed to this report