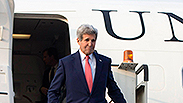 US Secretary of State John Kerry
Photo: Reuters
WASHINGTON - US Secretary of State John Kerry "didn't make a link between growth of ISIL and Israel, period," a spokesperson for the US State Department said Friday after heavy criticisms from Israeli politicians led to yet another political clash between the US and Prime Minister Netanyahu's government.

Kerry reportedly linked lack of progress in peace talks between Israel and the Palestinians to the growth of the radical Islamic State group, saying "there wasn't a leader I met with in the region who didn't raise with me spontaneously the need to try to get peace between Israel and the Palestinians, because it was a cause of recruitment and of street anger and agitation."

The comments led rightwing Economy Minister Naftali Bennett to blast Kerry as justifying the Islamic State group, saying "The claim that the Israeli-Palestinian conflict strengthens Daesh (the Arabic acronym for the Islamic State group) is an encouragement to global terror," Bennett said.

Bennett added that "It turns out that even when a British Muslim beheads a British Christian there will always be someone willing to blame the Jew."

Related stories:

Responding to the claims, Marie Harf, the US State Department spokeswomen, said Kerry's comments did not make the link between the two, but only made the point that peace would increase regional stability.

In a veiled reference to Bennett, Harf said that some Israeli leaders did not seem to agree with that claim.

Harf said it seemed one Israeli leader in particular did not read or fully comprehend what Kerry had said, and, according to her, it is possible this unnamed Israeli leader even purposefully misquoted the secretary's comments for political benefit.

According to her, the claim that peace would aid regional stability was made by presidents from both sides of the isle.

This is not the first time the two administrations have been at odds with one another over comments made by Kerry and senior Israeli officials. During peace talks, Defense Minister Moshe Ya'alon was quoted as saying that Kerry's peace efforts were "obsessive" and even "messianic."

Later, a day before peace talks were set to end, Kerry was quoted as warning foreign leaders in a private discussion that Israel risked becoming "an apartheid state" should it fail to reach a two state solution.
Israeli leaders slams Kerry
Responding to Kerry's comments, Bennett said "It turns out that even when a British Muslim beheads a British Christian there will always be someone willing to blame the Jew," he wrote in a Facebook status, referencing the videotaped executions published by the terror group.

"I suggest we listen to Daesh and take their word: These are terrorists who want to take control of the Middle East. So you can either fight this or justify this. The choice is in the world's hands and it will also pay the price for its choice," Bennett concluded.

Communication Minister Gilad Erdan also slammed Kerry's comments, saying that "I respect Kerry and his efforts, but every time he outdoes himself in terms of his failure to understand the region and the essence of the conflicts in the Middle East."

Erdan further said that "maybe Kerry should listen to his own president before making statements that are an affront to logic and could encourage moral degradation."

AFP, Moran Azulay and Attila Somfalvi contributed to this report