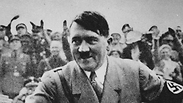 Adolf Hitler
Photo: Gettyimages
A new kind of storm has hit the Internet over a beauty pageant searching for the ultimate "Miss Hitler." One of the Russian equivalents to Facebook, VKontakte, is inviting beautiful young girls who enjoy taking selfies to add Nazi themes to their pictures and enter the "Miss Ostland" beauty contest, Vocativ reported.

In order to enter the competition there are strict qualifications for the aspiring "Miss Hitler"; the contestants need to be Nazis, Jew-haters, members of the Hitler social network group and most importantly to not insult the other candidates' photos.

Even though it is just a beauty contest, its message is highly important for the competition's organizers and they demand the candidates to add to their photo a convincing annotation explaining why they "love and admire Adolf Hitler's Third Reich".

The candidate that get the most likes will be declared "Miss Ostland", a title named after the Eastern European territory, near Russia, that Nazi Germany conquered during World War II.

The winner will receive a piece of jewelry from "Magic Workshop" with runic alphabet letters theme which was favored by members of the SS and Heinrich Himmler, one of the Nazi party leaders.

The runner up will not go empty handed and will be given a pendant combining a swastika and Nazi medals motif

At least 14 young women from Russia and Eastern Europe secured a place in the pageant so far. One of them is Katia Shahradova from Belarus who took a selfie wearing a Nazi hat and added that she "adores Hitler because he was willing to conduct experiments on humans".

Irina Nagarbatzkya from Kiev, Ukraine added a caption under her photo saying "Don't forget! Adolf is his name and he was given an eternal life, he is our eternal race".

The contestant Alina Vroninalf from Ukraine sent a photo of herself wearing a traditional Ukrainian costume and wrote that she had been focusing on the "revisionism of the Holocaust."

Another contestant from St. Petersburg said she thinks that "Hitler's belief that races are not only different in appearance, but also in intelligence, is absolutely genius and true".

The pageant has caused uproar in other social networks like Twitter and people from around the world were highly critical of it.

"This is absolutely shameful, why would anyone organize such a contest?" tweeted Miriam Struk. Another harsh Tweet came from Andrew Gross who concluded: "The 'Miss Hitler' contest is a reminder of the global way anti-Semitism is spread online, and we need to fight it".