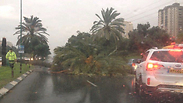 Tree blocking Namir Boulevard
Photo: Noam Yehoshua
Winds of up to 80 kilometers per hour battered Israel on Sunday, felling trees and knocking out traffic lights, and leaving the roadways clogged and many homes without power.

According to the Israel Electric Corp. outages have affected Hod HaSharon, Ramat HaSharon, Ra'anana, Tel Aviv, Lehavim, Petah Tikva, Mevassert Zion, and Beit Shemesh.




Israel's central artery, Route 1, which connects Tel Aviv and Jerusalem, was bogged down with heavy traffic in both directions, after a makeshift roof blocked the roadway.

A tree collapsed across the heavily-used Namir Boulevard, leading to massive jams at the entrance to Tel Aviv in the midst of rush hour. Another tree fell in the popular Shenkin area, and power outages across central Israel were reported.

Traffic lights were non-responsive along Derech HaShalom, a central avenue in Tel Aviv used to enter and exit the Ayalon Freeway.

Gilad Morag and Ahiya Raved contributed to this report.