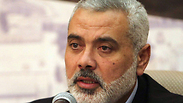 A daughter of the leader of Hamas in Gaza was admitted to an Israeli hospital for emergency medical treatment this month after she suffered complications from a routine procedure, two sources familiar with the case said.

Ismail Haniyeh's daughter's week-long admission to a hospital in Tel Aviv – which Israeli and Palestinian officials declined to confirm or deny – shows humanitarian coordination between the sides continues just weeks after the Gaza war ended.

Avi Shushan, a spokesman for Tel Aviv's Ichilov Hospital, said the daughter of Ismail Haniyeh was hospitalized for "a number of days" this month. He did not disclose what she was treated for.

A spokeswoman for the Israeli military confirmed the hospital stay. She spoke Sunday on condition of anonymity because she was not authorized to release the information otherwise. Hamas officials were not immediately available for comment.

Haniyeh, who has 13 children, is the leader of the Islamist group in Gaza and one of its most senior figures overall, serving as a deputy to Khaled Meshaal, who lives in exile.

Two sources – one Palestinian and the other a foreign diplomat with knowledge of the case – declined to name the daughter and, out of respect for her privacy, asked that details of her condition not be published.

Like many Hamas officials, Haniyeh spent the seven-week-long war largely in hiding. His home in the northern part of the Gaza Strip was destroyed by an Israeli air strike.

An Israeli official said he could not discuss specific medical admissions from Gaza.

But he said that in most cases a request by a Palestinian doctor to allow a patient across the border for urgent treatment was sufficient – indicating Haniyeh may not have been personally involved in his daughter's application.

During the war and since it ended in late August, dozens of patients from Gaza have been brought to hospitals in Israel, where the resources and technology for advanced treatment and complicated operations are vastly better.

Hamas is sworn to Israel's destruction but has voiced openness to a long-term truce and a measure of cooperation with Israel which, along with neighbouring Egypt, controls access to the coastal enclave, home to 1.8 million Palestinians.

Israeli media has reported that one of Haniyeh's granddaughter's was treated in an Israeli hospital last November, while his mother-in-law sought treatment in a Jerusalem hospital in June.

AP contributed to this report.