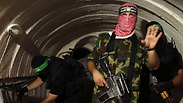 Hamas militant inside a tunnel
Photo: Reuters
Hamas' military wing, the Izz a-Din al-Qassam Brigades, is openly stating that the group is rebuilding the network of tunnels used for terror attacks, which was largely demolished by the IDF during the summer's conflict in Gaza.
A reporter for the Gaza-based newspaper Al-Resalah was visited a tunnel site Sunday, where he was shown the diggers hard at work repairing a tunnel bombed by IAF planes during Operation Protective Edge.
The commander of the digging team, Abu-Khaled, said that the tunnel's repairs had started "during one of the humanitarian ceasefires reached during the war."
The IDF destroyed more than 30 tunnels in the Strip during Operation Protective Edge. The tunnels, which cover an extensive area of subterranean Gaza, were used to transport munitions and missiles for use against Israel. During the fighting, Hamas sent a series of terrorists through tunnels that emerged inside Israel to carry out attacks.
Related stories:
There have been previous indications that Hamas was engaged in efforts to rebuild its tunnels in the wake of Protective Edge. In mid-September, the al-Qassam Brigades had announced that one of its fighters, Ahmad Riyad al-Hadad, had died while engaged in "underground activities". The group did not specify what those activities were.
Earlier this month, al-Qassam Brigades' spokesperson announced at a rally that, "the tunnels of al-Qassam are fine, thank God. Our men will begin the next battle with their feet on the ground in Nahal Oz….and the other settlements around Gaza."
A senior Israeli diplomatic source was quoted in the Israeli media as saying that, "Hamas did not wait a single moment after the last round of fighting, and began its rearmament in anticipation of another round".