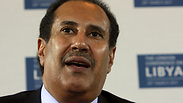 Former Qatar PM Hamad bin Jassim
Israel might be facing another diplomatic problem soon as Qatar, a harsh critic of Israel and one of Hamas' main sources of funding, is eyeing the role of UN Secretary General, according to a report Sunday in the Telegraph.

Sources in the Persian Gulf told the paper that the young new Emir of Qatar, Sheikh Tamim bin Hamid al-Thani, is trying to promote the nomination of Qatar's former prime minister, Hamad bin Jassim bin Jaber Al Thani, for the role of UN chief Ban Ki-moon, who is ending his term in 2016.

According to the paper, the Emir of Qatar offered Hamad bin Jassim, who served as prime minister under the previous Emir of Qatar and resigned last year, to support his campaign for the United Nation's Secretary General as a form of "political compensation."

The Telegraph noted that Qatar played a central role in the 2006 election of the then-foreign minister of South Korea, Ban Ki-moon.

Qatar may be a small nation of less than 2 million residents, most of them not even citizens, but its vast oil and gas stocks and its exaggerated wealth give it great political and economic influence all over the world. This is how, for example, it was chosen - against all expectations - to host the 2022 World Cup games (according to reports, Qatar did so using bribery) as well as hosting many other conferences and large-scale international events, which add to its prestige.

If Qatar has its way again and the UN Secretary General is a Qatari appointment, Israel's status in the world could suffer further.

Qatar, which Israel accuses of funding Hamas and other terror organizations, is a harsh critic of Israel, even though the two countries have had various degrees of economic ties over the years.

Comments made by the UN Secretary General receive broad coverage throughout the world and if a Qatari is elected to this position, it would be easier for Doha to smear Israel.

The UN's member states are those who elect the Secretary General and Qatar has already proven it could influence those pulling the strings using diplomatic and economic pressure.

Even so, an election of the Qatari sheikh at this moment in time could draw criticism not just from Israel, but from other countries amid reports and suspicions Qatar is aiding other terror organizations in addition to Hamas. Qatar has extensive ties, among others, with the Nusra Front (an al-Qaeda-linked group operating in Syria), and other Islamist factions fighting to topple Bashar Assad's regime.

Sheikh Hamad bin Jassim bin Jaber Al Thani is considered one of the strongest political figures in Qatar. He served as foreign minister of Qatar since 1992 and from 2007, as both prime minister and foreign minister until 2013. In addition to his political influence, he also gained economic influence when he served as the head of the Qatar Investment Authority that invests billions of dollars worldwide on behalf of the Qatari regime. He also held several senior positions in banks and other important Qatari institutions.