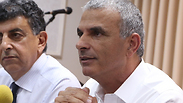 Moshe Kahlon
Photo: Motti Kimchi
Rising political star and former communications minister Moshe Kahlon announced Monday he would form a new political party which would focus on fighting the high cost of living in Israel.

"My friends, I plan on establishing a new political framework which will take care of things. This will happen before the next elections," Kahlon said.

Kahlon served as the Communications Minister in Prime Minister Netanyahu's previous government and took on the large mobile service providers, opening the market to new players and leading to a drastic drop in prices.

At the time, he was hailed as the center-right response to the 2011 social protest movement which galvanized growing anger at cost of living prices in Israel. Since then he has made a number of announcements regarding his imminent return to political life and rumors about his future plans have been rife.

High costs of living "are not a twist of fate or an edict. This is something that can be addressed if the government decided to do so," Kahlon explained.

Kahlon's announcement took place amid renewed public outcry over food prices in Israel - with the newspaper headlines comparing product prices in Israel to costs aboard. The renewed debate was sparked after an Israeli living in Berlin posted a receipt from a Berlin supermarket in which a beloved Israeli pudding was being sold for less than in Israel.

"If the government tells the large food companies: 'You have a year and a half to reorganize, we're going to open the market,' all of the monopolists will know the party has ended. Only then will we see normal prices," Kahlon said.

Kahlon did not stop at food prices, and took aim at Finance Minister Yair Lapid's flagship issue – housing. "Everyone knows what the problem is and no one does anything. There are three monopoles: Planning committees, the Land Administration – which issues tenders for development – and the local municipalities, which are in charge of zoning.

"Monopols are a big problem. The Land Administration should not even exist. Even in China (the state) doesn't hold so much land."

Mentioning Lapid's 0% VAT bill, Kahlon said he does not reject any attempt to lower housing prices.

Elections are not scheduled anytime soon, but coalition tensions between centrists Finance Minister Yair Lapid and Prime Minister Netanyahu over the 2015 state budget and the peace process, and between Netanyahu and rightist Economy Minister Naftali Bennett over settlement construction, could eventually see Israel head to an early election.