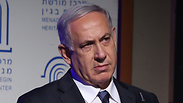 Netanyahu
Photo: Gil Yohanan
Netanyahu laying groundwork for early elections
'There is an atmosphere of elections,' senior officials say, claiming Netanyahu is working to lay the groundwork for a general election as early as May; according to officials, Netanyahu will first call primaries in the Likud and then move to form new collation with Bennett, Haredi factions.
"All the signs indicate that Netanyahu is preparing for elections," a senior Likud official said Monday as the Knesset prepares to reconvene for what is expected to be a busy winter session.

However, senior politicians and officials seem less concerned with the 2015 state budget than with rampant speculations that Prime Minister Benjamin Netanyahu could move to disperse the Knesset and send Israel to early elections.

According to senior political sources, Netanyahu has hatched out a two-pronged plan to retain power both within his Likud party and over a new government. In the first stage, Netanyahu will call primary elections in the Likud – despite fierce opposition from within the party. Meanwhile, coalition officials say, Netanyahu will lay the groundwork for his next coalition which he hopes to establish by the end of May together with Economy Minister Naftali Bennett's Bayit Yehudi party and the ultra-Orthodox factions, currently in the opposition.

In the meantime, the center-left bloc are scrambling to unify and find a viable alternative to Netanyahu, hoping to block him from attaining the Knesset seats he need to form the next government. So how will this political earthquake go down?
Consolidating control over the Likud
Senior political sources say that Likud strongman, and former interior minister, Gideon Sa'ar's surprising departure from politics left a leadership vacuum in the Likud which caught Netanyahu off guard and led him to change his plans, now that, de facto, he is unopposed in any leadership bid within the party.

As of late, Netanyahu has been spotted attempting to warm his relations with the Haredi factions and MKs. However Foreign Minister Lieberman – who heads the Yisrael Beitunu party which ran together with Netanyahu's Likud in the last election but plans to run independently in any future vote – recently threw Netanyahu's plans into a tail spin again when he said he would not lend his hand to any new coalition.

At first, Likud officials say, Netanyahu was expected to wait until the 2015 state budget is passed before calling a primary election in the Likud – to take advantage of the vacuum left by Sa'ar's departure. However, these recent developments have pushed Netanyahu to change course and he now plans not to wait for the budget's final second and third readings – expected in December – and will hold the primaries beforehand.

During December, Netanyahu will fully consolidate his control over the Likud by putting a number of changes to the party's constitution to a vote. Among the changes: The right to reserve lucrative positions on the Likud's ticket, thus allowing him to build an attractive party roster ahead of any general elections. The move will also restore his control over the party, control he almost nearly lost to Sa'ar.

He is also expected to torpedo an attempts by MK Danny Dannon – a hardliner Likud MK who Netanyahu recently fired from the position of deputy defense minister – to change the constitution so that any party leader entering his third term – like Netanyahu – will have to be reelected in a special vote in which they must get more than 50 percent of the party's support – a move that would be difficult to attain if he has to face off against small competitors like Danon or MK Moshe Feiglin that could force him into a second round.




"All the signs indicate that Netanyahu is preparing for elections," a senior Likud official said. "It is safe to assume that he will move for an election before Lapid succeeds in passing his (flagship) 0% VAT bill. He is not lacking in issues that could lead the coalition to fall apart over. Based on the signs he's giving off, he plans to hold primaries at the beginning of the (winter) session and will then strive for an election."

According to the official "there is already an atmosphere of elections."

Different scenarios are already being played out in the halls of government, and representatives from the Haredi parties have been seen holding meetings with Netanyahu and his representatives during the last two weeks. Tensions between Netanyahu and Bennett were also said to have been put aside for the meantime.

In a recent party vote, Bennett also won greater freedom to place people of his own choosing on the party ticket – in retrospect, the vote and Bennett's win seem indicative of changing political tides.
Opposition in search of a leader
The center-left bloc in the Knesset – the left part of which is currently in the Opposition – are trying to work out a united front to oppose Netanyahu. Justice Minister Tzipi Livni's Hatnua party – which currently has 7 Knesset seats – is working to gain support to create some sort of a joint effort with the Labor – headed by Opposition Chairman MK Isaac Herzog. Livni is also examining the possibility of cooperating with fellow centrist Finance Minister Yair Lapid and his Yesh Atid party.



Prominent Labor party activists, MKs and senior political officials say that Herzog is laying the groundwork for elections as well, and, like Netanyahu, in addition to tightening party ranks behind him, is also dedicating time and effort to retaining the ability to make high-level political appointments and deals.

Herzog is said to be eyeing a joint run with Livni and is attempting to reserve three top positions for Livni and her people – presumably former Labor leaders Amram Mitzna and Amir Peretz who left Labor to form Hatnua with Livni.

"Herzog understands that if Labor reaches the finish line alone then it won't make any real progress in terms of mandates than what (previous party leader) Shelly Yachimovich made," said a senior Labor official opposed to the idea.

"Therefore he is attempting a much more substantial move, hoping for at least a mutual run with Livni, who in a certain sense has a larger public value (than him). He understands that if he is able to put together a good group of people while Netanyahu is losing his popularity, as has been happening recently, he could find himself leading the largest political party in the Knesset."

Among the options Herzog is looking into is running with a 'Alternating System,' that takes into consideration the relative size of the factions, similar to the partnership between Likud and Yisrael Beiteinu in the last elections.

Quite a few of Herzog's meetings are with Environmental Protection Minister Amir Peretz, who quit the Labor party ahead of the last elections and joined Livni. Despite public statements from the party and denials of an attempt to bring him back to the fold, Peretz is in close ties with the top echelons of the Labor party - mostly those affiliated with Herzog - with the objective of coming back.

Livni's party rejected the possibility of joining Labor, but the new relationship between Livni and Herzog has already been made obvious during the presidential elections in June. The two joined forces to support MK Meir Sheetrit's bid and managed to bring him to the second round of the vote in the last minute, at the expense of Dalia Itzik.

Inside sources say that Herzog has been traveling up and down the country in the past few days, meeting with Labor activists and trying to garner broad support in the Labor party convention so he could make needed changes ahead of the elections, in case Livni accepts his offer. Just before the holidays he attended conferences in the north, promising to reserve a spot for a representative from the area in the party's lineup. In visits to the south he also hinted he would make sure their voices are heard as well.

In the last party convention, over two months ago, Herzog made some changes, among others securing the role of party chairman for himself in the coming elections (meaning - there will be no primaries for the party's leadership). If he brings the issue of a joint run with Hatnua to the convention's approval, political sources estimate this would cause a political storm as securing spots for outside elements could come on the expense of current members of Knesset.