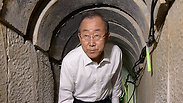 UN's Ban visits Gaza terror tunnels
Photo: GPO
WASHINGTON – Secretary-General Ban Ki-moon is urging Palestinian and Israeli leaders to halt "unilateral initiatives" that fuel mistrust and to make the tough compromises needed to achieve a two-state solution.

Meanwhile, Israel's UN mission told the forum that the "road to peace passes through bilateral talks and does not bypass negotiations."

The UN chief's remarks to the UN Security Council on Tuesday were almost certainly aimed at Israel's continued settlement building in territory the Palestinians want for their state and the Palestinians' pursuit of a council resolution that would set November 2016 as the deadline for Israeli troops to withdraw from all Palestinian territory.

Israel has also voiced objection to 'unilateral' moves – a term it uses to describe Palestinian attempts to force Israel into concessions through diplomatic initiatives, like Palestinian President Abbas' bid to submit a draft resolution to the UN Security Council demanding the end of Israel's occupation by the end of October, or moves by foreign government recognizing Palestine as a state – as the UK and Sweden recently did.

Related stories:

Ban challenged both sides to display "courage and vision" and rise to the occasion and negotiate a comprehensive peace agreement.

The secretary-general, who recently visited Gaza, criticized the extent of the destruction unleashed by Israel saying it "has left deep questions about proportionality and the need for accountability."

The UN is set to be the scene of many diplomatic battles between Israel and the Palestinians, especially in light of the Palestinians Security Council bid.

Meanwhile, the deputy chair of the Israeli delegation to the UN, David Roth, criticized European governments for recognizing Palestine as a state, as well as the Palestinian resolution being advanced at the Security Council.

At a Security Council session, Roth said "the Palestinians' unilateral steps on the international stage are driving us further and further away from peace. The road to peace passes through bilateral talks and does not bypass negotiations."

The Palestinian delegate called on world powers to recognize a Palestinian state, since – he claimed – Israel is doing everything possible to halt the progress of the peace talks.

Foreign Minister Lieberman recently sent out a classified document titled "Top priorities for Israel's foreign policy in 2015" to Israeli ambassadors worldwide with detailed instructions on how to conduct foreign relations in the year ahead.

The document states that "Israel has a primary interest in maintaining the strategic partnership, common goals and close relations between the two countries and their leaders.

Full coordination is needed between the two countries regarding the Iranian issue, the future of the peace process, the need for a multilateral approach in the UN, rather than the unilateral approach of the Palestinians against Israel, demilitarization of Gaza, and dealing with regional threats.

The Associated Press and Attila Somfalvi contributed to this report.