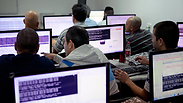 As businesses face a growing threat of cyber attacks, Israeli start-up ThetaRay is betting on maths to provide early detection, enabling the shutdown of systems before damage can be done.

The year-old company's first investor was venture capital firm Jerusalem Venture Partners. It is now also backed by heavyweights like General Electric, which uses ThetaRay to protect critical infrastructure such as power plants, and Israel's biggest bank, Hapoalim, which deployed the technology to detect bank account anomalies.

Both companies participated in a funding round two months ago in which ThetaRay raised $10 million. ThetaRay's valuation was not disclosed.

Cyber security providers are moving away from protecting gateways with defenses such as firewalls to focus on detecting and preventing attacks before they penetrate organizations.

ThetaRay was founded by two professors, Roland Coifman of Yale and Amir Averbuch from Tel Aviv University, who dedicated nearly a decade of research to develop algorithms that analyze massive amounts of data and can detect an anomaly immediately.

"Walls can't protect you anymore. In this new world a new security paradigm is needed," ThetaRay Chief Executive Mark Gazit said. "Algorithms (allow) us to take any type of data, analyze it in real time and tell you there is a threat here."

Security experts estimate it can take more than 200 days to identify a cyber attack once it's been launched.

According to Gazit, detection technologies offered by many companies suffer from "detection fatigue," producing many false alerts. To avoid this, rules are created that leave holes for attacks to sneak through.

"Because what we do is purely mathematical, we have a very high detection rate but the false positive level is extremely low," Gazit said, adding the company's software had a level of false positives 100 times lower than that of other solutions.

Once a threat has been detected, ThetaRay leaves it up to humans to decide whether or not to shut down the system.

Competitors in this fast-growing security field include Splunk Inc and venture-backed Norse Corp and Palantir Technologies in Silicon Valley and Bay Dynamics, based in San Francisco, and Seculert, another Israeli-based venture.

A year ago, a survey by market research firm Gartner Inc of 720 enterprises found that only 8 percent of the respondents were using big data analytics as a security tool, according to Gartner analyst Avivah Litan.

ThetaRay is focusing on industrial companies and financial institutions. Besides GE and Hapoalim it is also working with Citi and is in talks with Wells Fargo and Morgan Stanley and has big ambitions.

"In our first years of sales we will probably grow 100 percent a year," Gazit said. "We are definitely building ThetaRay to be a billion dollar company valuation wise."