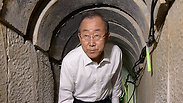 UN chief Ban Ki-Moon touring Gaza tunnels
Photo: GPO
UN Secretary-General Ban Ki-moon said on Tuesday he was setting up an investigation into attacks on United Nations facilities during Operation Protective Edge in the Gaza Strip and the use of UN sites to store weapons.

The world body has said that tens of thousands of dwellings were damaged or destroyed in 50 days of fighting between Israel and Hamas, and 108,000 people were left homeless in a long impoverished, isolated territory.

In one incident, more than a dozen people were killed at a UN school during an Israeli shelling. Israel has cited Hamas' use of UN facilities to store rockets as a reason for targeting them.

Speaking at a monthly meeting of the UN Security Council on the Middle East, Ban recounted his visit to a United Nations school in the Jabaliya refugee camp, where civilians had sought protection during the war.

"I look forward to a thorough investigation by the Israeli Defense Forces of this and other incidents in which UN facilities sustained hits and many innocent people were killed," he said.

"I am planning to move forward with an independent board of inquiry to look into the most serious of those cases, as well as instances in which weaponry was found on UN premises."

Ban's spokesman Stephane Dujarric later suggested Ban planned to move quickly on setting up the investigation.

"A board of inquiry is sort of normal procedure when there is damage to UN property or UN premises," he told reporters.

The secretary-general did not offer details about the board of inquiry. Dujarric said specifics would be included later in an official announcement of the inquiry.

The IDF last month opened five criminal investigations into its Gaza war operations, including attacks that killed four Palestinian children on a beach and 17 people at a UN school.

An estimated 20,000 homes were badly damaged or destroyed in the fighting and Gaza's power station and other major infrastructure were hit. Rebuilding could take years.

More than 2,100 Palestinians were killed during the Gaza war. Sixty-seven IDF soldiers and six civilians in Israel were killed by rockets and attacks by the militants aligned with Hamas, the group that controls the Gaza Strip.