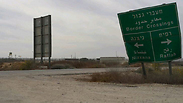 Israel-Egypt border
Photo: Yoav Zitun
An IDF patrol came under fire on the Israeli-Egyptian border on Wednesday afternoon. A company commander and a soldier from the Caracal Battalion were wounded when militants from Sinai fired gunshots and an anti-tank missile at an IDF jeep.
Egyptian security forces told an Egyptian news outlet that al-Qaeda-linked Salafist jihadist group Ansar Bait al-Maqdis was behind the attack. While Al Arabiya reported fire exchange between the Egyptian army and smugglers in Sinai was the source of the fire at Israel.
The IDF is currently treating the event as a hostile and destructive act, but does not rule out the possibility the fire was a result of an Egyptian military chase after smugglers.
The wounded soldiers were evacuated to the Soroka Medical Center in Be'er Sheva in a helicopter. A female officer was in moderate condition and a male soldier was in moderate to serious condition.
Wounded IDF troops airlifted to Soroka Medical Center
Soroka spokeswoman said the officer and soldier were rushed to the trauma room at the hospital.
The IDF has dispatched large numbers of troops to the scene.
"We have large forces in the area to make sure there is no infiltration into Israel," a senior military source said, and noted that at present there is no indication terrorists have managed to infiltrate from Sinai.
"We're working in the (nearby) communities and a major aerial intelligence gathering operation is underway to try to figure out what happened," he added.
The Israeli-Egypt border has a high fence and advanced observation tools. The entire area is mountainous and includes lookout points. There are also patrols guarding the border.
The Egyptian military has been operating in the Sinai Peninsula in the past few weeks in order to thwart Ansar Bait al-Maqdis' attacks. The al-Qaeda-affiliated organization supports the Islamic State and tries to imitate it.
Earlier this week, an explosive device was set off against an armored Egyptian army vehicle in the Al-Arish area in Sinai. Its shrapnel hit 7 Egyptian soldiers.
In September 2012, Corporal Netanel Yahalomi, aged 20 from Nof Ayalon, was killed in the Mount Sagi area when three terrorists opened fired at an IDF patrol. The troops exchanged fire with the terrorists, killing all three of them. Another soldier was moderately wounded.
A year prior to that, three terrorists ambushed and opened fire at a bus on Highway 12 between Mitzpe Ramon to Eilat. Half an hour later, also near the border with Egypt, two explosive devices were set off against an IDF force on its way to the scene of the bus shooting. Soon after that, a mortar shell exploded near a vehicle and in a fourth incident that day also in one of the southern roads not far from the first incident, fire was opened at another bus and a car, which included an anti-tank missile. Seven Israelis were killed and 31 wounded that day.
Roi Kais contributed to this report.