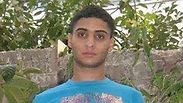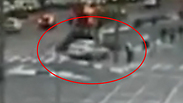 Terror attack in Jerusalem
The family of Abed a-Rahman a-Shaludi, who carried out the deadly attack in Jerusalem on Wednesday evening, vehemently deny that he deliberately drove his car into a crowd of people at a light rail station. But 20-year-old a-Shaludi, who died hours after the attack from police gunfire, had a history of violence against Jews.

According to Palestinian reports, a-Shaludi was released from jail in December 2013 after serving a 16-month sentence. He was arrested again last February for a period of one month. He is also reportedly a close relative of the Muhi a-Din Sharif, aka "Engineer No. 2", a senior member of the Hamas military wing who was killed near Ramallah in 1998.

Related stories:

The notice posted on websites affiliated with Hamas showed a-Shaludi alongside and five-year-old Einas Khalil, a Palestinian girl who was run over and killed this week by a resident of the Yitzhar settlement in the West Bank town of Sinjil. The settler fled the scene, saying he was afraid of being lynched. One website's Twitter account posted the picture with the hashtag #thirdintifada.

Later Wednesday evening, a Hamas-affiliated website reported that IDF troops had arrested the terrorist's 15-year-old brother, Izz al-Din a-Shaludi, in Silwad. A Hamas spokesman abroad, Husam Badran, was somewhat vague Wednesday afternoon, saying that if this was indeed a terrorist attack as claimed, then it was "a natural response to the crimes of Israel in Jerusalem, particularly in light of ongoing invasions of the al-Aqsa mosque."
Terrorism background
A-Shaludi had a history of security violations. When he was 18, he was indicted, along with his brother and his friends, for targeting the Jewish residents of Silwan in East Jerusalem, and for trying to prevent police cars from entering the neighborhood.

In May 2013, he was sentenced to 16 months in prison in a plea bargain, having pleaded guilty to, and been convicted of, throwing petrol bombs at Jewish cars and at a police vehicle, attempted arson, aggravated assault, attempted assault of a policeman and rioting.

A-Shaludi confessed and was convicted under the plea bargain to one of three charges, for an incident that occurred on Nakba Day: He and his friends made Molotov cocktails, which they divided among themselves and hurled. The two charges that were dropped referred to the throwing of firebombs at Jewish residents of Silwan.

In addition, he was arrested last March on suspicion of vehicular theft.

Nonetheless, the a-Shaludi family told Ynet that they rejected the claim that driving his car into the crowd Wednesday evening was a nationalistic attack.

"We are certain that this was a regular car accident," close relatives said. "Over the past few days he did not feel well, and it could be due to his illness that he lost control of the wheel. Many similar accidents have occurred in many places and there was no suspicion of a terrorist attack."

His relatives also brought up the death of the Palestinian girl in Sinjil as an example of different treatment for Arabs and Jews.

"A few days ago, a Jewish settler knocked over two girls near Ramallah. He killed one and the other is in serious condition. The police immediately said it was a car accident. In our case, they said the opposite in seconds. This is because the driver was an Arab driver. When a Jewish driver was involved in an accident, the attitude was different and no one shot him."

Another family member said that the incident was determined to be a terror attack without questioning a-Shaludi.

"I do not understand how they decided it was a terrorist attack rampage before they heard from him," the relative said. "Unfortunately the prime minister and Israel Police are inciting against us. They are treating us like criminals and the enemy. From their perspective, they have no problem in eliminating us and throwing us in the road like dogs. Yet we will remain strong."

Roi Kais and Omri Efraim contributed to this report