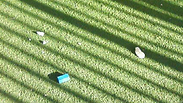 The stones hitting the kindergarten
Following the deadly attack at the Jerusalem Light Rail, stones were hurled on Thursday morning at a kindergarten in the Ma'ale ha-Zeitim neighborhood in East Jerusalem, near the Arab neighborhood of Ras al-Amud.
Border police and police forces started searching for the suspects who fled the scene. No damage was caused and no one was hurt.
Firecrackers thrown outside kindergarten
"We heard booms in the morning coming from the kindergarten," said Shlomi, the father of one of the kids at the kindergarten. "We went into the kindergarten and saw all the kids cooped up in one of the rooms. The kindergarten's entire playground was covered with stones. From in between the houses we could see several masked men throwing stones. "
Shlomi went on to say this incident occurred "right in the center of Jerusalem. There are over a hundred Jewish families here, we're not in the middle of Tayibe."
He criticized the government's policy of "containment."
"We have to thoroughly deal with this problem. There's a daily friction, but the problem is that they don't let the security forces act. There's a policy of containment, and that's why the neighbors here cause problems, and it's on the children's experience," Shlomi said.
"We won't leave here, we won't break, even though this is a time of escalation," he added.
After nightfall, Silwan residents clashed with police, who responded to rocks and petrol bombs with stun grenades. Police clashed with stone-throwing protesters elsewhere in the city as well, where one person was injured and two others were arrested.
Scores of police could be seen trying to enter the family home of 21-year-old Abed Abdelrahman Shaludeh, the terrorist behind the attack, as dozens of masked Palestinians hurled stones at them, police and residents said.
Four family members who went to visit Shaludeh in Shaarei Tzedek hospital were arrested, a relative told AFP.
Clashes also erupted in Issawiya, Al-Tur and Shuafat refugee camp. Residents in the Mount Scopus area were experiencing difficulties breathing because of tear gas that was fired in clashes between security forces and Palestinians in Isawiya and Silwan in East Jerusalem.
Overnight and early Thursday morning, stones were thrown at the Jerusalem Light Rail in the Shuafat area. In both incidents, damage was caused to the Light Rail but no one was hurt.
East Jerusalem has experienced months of unrest since a wave of violence erupted over the summer. Train passengers have reported Palestinians attacking the carriages with rocks and other violence.
Repeated damage caused by Palestinians has put a third of its carriages out of commission on the Jerusalem light railway, which links Arab and Jewish neighborhoods and was once hailed by Israeli authorities as a symbol of coexistence.
On Wednesday night, a man was lightly wounded from stones thrown at his car on Highway 20 near Beit Hanina.
Reuters, the Associated Press and AFP contributed to this report.