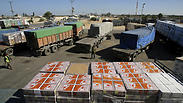 Palestinian worker checks a truck loaded with aid at the Kerem Shalom border crossing
Photo: AP
Several dozen tons of cement bags stored in a warehouse are one of the few tangible achievements so far of a $2.7 billion plan to rebuild war-wrecked Gaza Strip.
The program was launched with high expectations at an international conference in Cairo on Oct. 12, but has run into obstacles, including wrangling between the rival Palestinian factions Hamas and Fatah for control in Gaza and what officials say has been a trickle of promised aid.
Hardest hit by delays are tens of thousands of Gazans living in communal shelters or the ruins of their homes since the summer war between Israel and the Islamic militant Hamas destroyed or damaged some 100,000 homes.
"We are waiting and waiting," said Samer al-Khaisy, 29, who lives with his wife and three pre-school daughters in one room of his damaged apartment, with holes in the wall covered by plastic sheets.
Getting cement, steel and gravel from Israel into Gaza is a major challenge because of a blockade imposed by Israel and Egypt in 2007 after Hamas seized the territory from Western-backed Palestinian President Mahmoud Abbas.
Hamas has since ceded some control to a Palestinian unity government that reports to Abbas and is to lead reconstruction.


The United Nations, in turn, devised a system under which Israel would gradually ease a ban on selling building materials to Gaza, with UN monitors keeping track of shipments in Gaza to make sure they are not diverted by Hamas for military use.
So far, Israel has only delivered about 400 tons of cement in a single shipment, prompting allegations of politically motivated foot-dragging from Palestinian Cabinet Minister Mamoun Abu Shahla.
But a UN official said the holdup is mostly technical and that he expects more deliveries once the Palestinian government has vetted more Gaza importers of construction material and potential buyers.
Twelve importers have met the security requirements so far, including setting up CCTV cameras in their warehouses, the official said, speaking on condition of anonymity because he was not authorized to discuss the program with the media.
At the al-Shamali company in Gaza City's Shijaiyah neighborhood, cameras were trained on 120 tons of cement in a corner of a warehouse. Company accountant Nashad Aref said U.N. monitors have visited three times so far to check the setup.
The company is not yet allowed to sell the cement, he said, adding that he has had to fend off impatient residents of the hard-hit area. Company driver Nafez Awad said he'd hoped to have first dibs to repair his apartment, but was told the UN isn't allowing sales yet.
Another hurdle is the fraught relationship between Hamas and Abbas, and differences over divvying up responsibilities.
For example, Hamas wants to keep some of its border officials at the main Israel-Gaza cargo crossing, Kerem Shalom, but the unity government wants to send its own team there, arguing that this would expedite imports.
"Nothing is solved about the government and the crossings," said Ghazi Hamad, a Hamas official.
It was business as usual this week at the cargo crossing, a conduit for consumer goods Israel has allowed to enter Gaza in recent years. On Tuesday, trucks delivered bananas, apples, refrigerators, cows and horses -- just no cement.
A private Palestinian company handles the transfer of goods from Israel. However, at a Hamas-run point about a mile away, drivers pay customs and inspectors check cargo.
Slow aid payments are another problem.
"It is known that money needs months to arrive, but we are encouraging donors and ask them to give us even part of the assistance so as to begin the projects," said Mohammed Mustafa, the top government official in charge of reconstruction.
Government envoys will soon start visiting wealthy Gulf countries to seek accelerated aid payments, he said.
"Reconstruction is facing some problems, that is why it is not taking off," said government spokesman Ehab Bseiso. "These things are not going to be changed overnight."