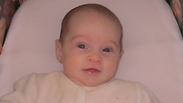 Haya Zissel Braun
Photo courtesy of family
Avi Steinhartz, a United Hatzalah volunteer, was the first to administer first aid to 3-month-old Haya Zissel Braun, the infant who was killed in the Jerusalem Light Rail attack on Tuesday, and images featuring him carrying her have since become a symbol of the deadly attack.

"I took the baby and began to give her CPR. She had serious head injuries, the vehicle ran over her," Steinhartz said.

"It was a very difficult incident – you have to repress your emotions in order to work properly," he told Ynet earlier Wednesday.

Meanwhile, the medical staff at Hadassah Medical Center managed to identify a woman hospitalized in critical condition as a result of the attack as an 18-year-old citizen of Ecuador, who has been studying in a religious institution in Jerusalem. Her family is still abroad.

Steinhartz did not witness the attack, but was very close to the scene when it took place. Once the infant's parents spotted him, they ran over and placed the baby in his arms.

Close up video of terror attack

"There was another woman next to me with a head injury, and other wounded people. I notified the call center, and more volunteers arrived shortly," Steinhartz recounted the incident.

"I began to give her CPR, and once the ambulances arrived, I entered one of them with her. I continued to give her CPR treatment until the ambulance left for the hospital. I did not go with them, but rather continued to treat those who were wounded at the scene."

Steinhartz immigrated to Israel at the age of 18, and has lived in Jerusalem ever since. As a father of three children, he said that in order to cope with the difficult situation, he had to detach emotionally. "You disconnect so that you can provide better medical care. There were many wounded and many people suffering from anxiety, who were in panic and screaming," he said.

"This is a very difficult time for residents of the city. Those who are supposed to protect us don't do so, and deal with other things instead.

On Wednesday night, hundreds of people accompanied 3-month-old Haya Zissel Braun on Wednesday night to her final resting place at Har HaMenuchot in Jerusalem.

"You were pure. I want you to look down at me and smile," crying, Haya's father, Shmuel Elimelech said. "Tomorrow is your three-month birthday. It's all now in God's hands. We will remember you."

Since the attack, there were two stone-throwing incidents in the Jerusalem Light Rail overnight Wednesday and early Thursday. Damage was caused to the Light Rail in the Shuafat area, but no one was hurt.