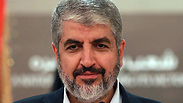 Mohammed Deif is alive, and Hamas feels no need to prove it, Qatar-based Hamas leader Khaled Mashal told Vanity Fair in an interview published this week.
"Mohammed Deif is alive. Israelis failed to kill him. But they succeeded in killing his wife and his two children. Mohammed Deif is still alive, and will continue to fight the Israeli aggression and occupation," Mashal said when asked directly about the Hamas military chief.
In the final stages of Operation Protective Edge, an Israeli airstrike in Gaza City targeted a house in which Hamas' military chief Mohammed Deif was believed to have been. Hamas confirmed the attempt on Deif's life, but said only his wife and children were killed, not him.
When pressed on proof Deif was still alive, Mashal insisted that while Hamas had proof, the organization did not feel the need to present it to the world.
"Mohammed Deif is not a politician in order to make public appearances. He's a military man who hardly ever turned up in public, even before the war," he said.
He praised Amar Abu-Eisha and Marwan Kawasmeh, who kidnapped and killed three Israeli teenagers in Junes, calling them "martyrs" and "heroes."
Despite his high praise, Mashal insisted the Hamas leadership did not know about the kidnapping operation in advance and did not sanction it.
"In the leadership of Hamas, we never give orders to execute this operation—or stop that one. We present general policies: that there is an occupation and part of our strategy is to resist this occupation," he said.
Mashal shook off any responsibility to the summer war in Gaza that followed the kidnapping, insisting Israel is the one that declared war.
"The war was imposed on us and we simply defended ourselves … we are saddened by the loss of lives, but who should bear responsibility? It's the Israelis: politicians, military, and security leaders. As for us, we stood our ground in this war. We thwarted Netanyahu's plot," he said.
The Hamas leader claimed the terror tunnels dug under the Gaza-Israel border were not offensive tunnels, but defensive ones.
"We used (the tunnels) when Israel waged war against us. So the tunnels may have been outwardly called offensive tunnels, but in actual fact, they are defensive ones," he said. "If those were offensive tunnels, Hamas would have used them before the war. But, when Israel carried out its aggression against us, we used the tunnels to infiltrate behind the back lines of the Israeli army, which is waging war on Gaza."
The rockets fired at Israeli civilians, he said, actually targeted military targets.
"The accuracy of such rockets is limited. So, they sometimes miss their targets," he said, promising that "when we acquire the smart, accurate rockets, striking of military targets will be more accurate."