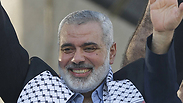 Hamas leader Ismail Haniyeh.
Photo: AFP
Hamas leader Ismail Haniyeh praised Wednesday the "martyr" Abed a-Rahman a-Shaludi, a resident of the east Jerusalem neighborhood of Silwan, who carried out the attack on Jerusalem's light rail that killed 3-month-old baby Haya Zissel Braun.
Earlier this week, reports emerged that one of Ismail Haniyeh's 13 children had received medical treatment in Tel Aviv's Ichilov Hospital and had been hospitalized for a week. In the past, Haniyeh's sister and granddaughter were also admitted for medical treatment in Israel.
In a speech at Gaza's Islamic University, Haniyeh commented on the terror attack, saying: "A murder for a murder, a conflict for a conflict, and a run-over attack for a run-over attack."
The Hamas leader and other speakers referred their comments to an accident that took place on Route 60 earlier this week in which a Palestinian girl was killed and another was seriously injured after a car crashed into them. The driver, a resident of Yitzhar, a Jewish settlement in the West Bank, fled the scene, saying he feared he would be lynched, but reported the accident
On Thursday, Hamas spokesman praised the "act of heroism", as they termed it, carried out by a-Shaludi, claiming that his actions were a natural response to the "crimes" conducted by Israel, particularly in Jerusalem and the Temple Mount.
Video footage of Jeruslam attack that killed a baby girl a baby girl.
Palestinian Presidential Spokesman Nabil Abu Rudeineh responded to Prime Minister Netanyahu's statements that Abbas bore responsibility for the escalation of violence and attacks on the capital, saying, "Israel's escalation in voiloence, incitement and continuation of the occupation are the true reason for Palestinian aggression in Palestine and the region."
He continued, "The continuation of the occupation, the Judaization of Jerusalem, and incitement against the holy places for Islam and Christianity combined with the continuing provactions against the Palestinian Authority and especially against President Abbas create an explosive atmosphere in the Palestinian arena and in the region in general."
Palestinian Authority officials did not rush to condemn the attack. Palestinian Foreign Minister Riad al-Malki said that he laments the death of a-Shaludi, and explained that the Palestinian leadership operates within legal, diplomatic and political frameworks in its battle over Jerusalem
Viral posters announcing the death of a-Shaludi, the nephew of Mohiyedine Sharif, a master bomb maker for Hamas who was killed in 1988, were distributed within social networks affiliated with Hamas.
Outbreaks of stone throwing continued in the capital, leaving a bus driver with a leg injury. Damage was caused to two other buses. Stones were also hurled in the Jewish neighborhood of Maale HaZeitim.