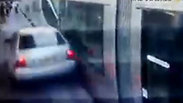 Terror attack in Jerusalem: 'Traffic incident'
Hours after a Palestinian terrorist drove his car into a crowd waiting at a light rail station in Jerusalem, the US consulate in the city issued a memo referring to the attack as a "traffic incident".
A three-month-old baby was killed and seven other people were wounded when Abdel Rahman a-Shaludi drove his car across incoming traffic to strike the people waiting at the station. The baby girl, Chaya Zissel Braun, had American citizenship.
The memo was sent to employees of the American consulate, which is based in East Jerusalem. It asks staff to report "any emergency."
The family of the driver, who had been jailed in the past for various security related offenses, claim that the attack was an accident. They have set up a mourning tent for al-Shaludi, who was killed by police gunfire when he tried to flee the scene.
Consulate officials said the statement had not intended to downplay the severity of the incident, and that its authors wanted to focus the employees' attention and give warning of the protests.
The spokesman for the Consulate, Leslie Orderman, said in response: "Our position is the position of the State Department spokesperson, who condemned in the strongest language the act of terrorism in Jerusalem.
"We have expressed our deepest condolences to the family of the baby, reportedly an American citizen, who was killed in this heinous terrorist attack. We posted the statement of condemnation on our website and the Consulate Facebook page."