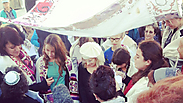 'With great excitement'
Photo: Women of the Wall
The Women of the Wall organization won a major victory Friday, smuggling in a Torah scroll to the Western Wall women's section to hold their first ever Torah reading by a woman at the site.
The tiny Torah was smuggled into the compound in a tallit bag owned by one of the group's members, and used for a reading at a bat mitzvah. The tiny scroll was undetected by guards at the Western Wall who search all bags being taken into the compound.
In 2013, Jerusalem District Court issued the precedent-setting ruling that women were allowed to read from the Torah at the Western Wall. However, regulations at the site, which only allow for the use of its own Torah scrolls and prohibit worshippers from bringing books from the outside, had prevented them from doing so until now.
The group held their regular monthly prayers at the Western Wall to mark Rosh Chodesh (the start of the month), as they have done for the past 25 years. This month, however, they were accompanied by Sasha Lutt, who is celebrating her bat mitzvah.
"With great excitement, today we carried out the mitzvah of reading from the Torah, which had been illegally and arbitrarily denied to us," said Women of the Wall Director Lesley Sachs. "This tiny Torah was written in order to be hidden and allow its reading despite the prohibitions on Jewish prayer in the Diaspora. For precisely these reasons we had to bring it in secretly, only this time it is Jews imposing restrictions on Jews."
The office of Shmuel Rabinowitz, the rabbi of the Western Wall, accused the group of perpetrating a deception, and said that every effort would be made in the future to prevent a repetition of the Torah reading.
"A small group of Women of the Wall carried out a deception this morning; after they were prevented from entering with a large Torah scroll – they cunningly took a small Torah into the women's section (of the Western Wall)," said the statement from Rabinowitz.
"The Western Wall rabbi decided not to give further importance to the incident, and has asked for their failure to abide by the rules at the Wall, out of concern for the sanctity of the Torah. In future, efforts will be made to ensure that this does not happen again, and the introduction of Torah scrolls will be banned for everyone - men and women."