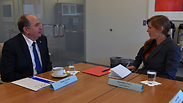 Ya'alon and Power
Photo: Defense Ministry
WASHINGTON – Senior US officials who refused Defense Minister Moshe Ya'alon's request to meet with key administration figures had also intended to foil his meeting with UN ambassador Samantha Power.

American officials told the Associated Press on Friday that the objections to the planned meeting between Ya'alon and Power arrived too late to the UN ambassador's office to avert the appointment. But he received little respite from the sour reception, as Power emphasized her grievance with settlement construction beyond the Green Line.

The White House and State Department declined to comment on internal deliberations about who Ya'alon should see. "I can't speak to any meetings that didn't occur," White House press secretary Josh Earnest told reporters.

Ya'alon arrived on Tuesday to meet his counterpart, Secretary of Defense Chuck Hagel, and American intelligence officials. At the State Department, spokeswoman Jen Psaki noted that the Ya'alon's meeting with his counterpart Hagel was "a natural, standard procedure."

Earlier on Friday, Ynet revealed that the Obama administration refused the Israeli defense minister's request to meet with other top officials, including Vice President Joe Biden, Secretary of State John Kerry, and the National Security Advisor Susan Rice.

The defense ministry did not issue an official response. Sources close to Ya'alon said that "the aim of the trip was to meet with Hagel and the top security echelon in the US, and that happened. These meetings proved once again the strength of the ties between the defense establishments and between Ya'alon and Hagel."

The rejection was diplomatic blowback from Ya'alon's remarks on Kerry, which were first revealed by Yedioth Ahronoth in the spring. The Israeli politician had called the top US diplomat "messianic and obsessive" behind closed doors, adding that "the only thing that could save us is Kerry winning a Nobel Peace Prize and leaving us alone."

Ya'alon also infuriated officials in Washington with comments accusing the administration of being weak on Iran and by questioning the US commitment to Israel's security. That followed reports that Ya'alon had criticized Kerry for being unrealistic and naive in trying to forge an Israeli-Palestinian peace deal.