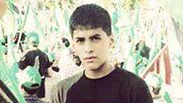 RAMALLAH - IDF forces shot and killed a Palestinian-American youth during clashes on Friday, the US State Department said, calling for a quick and transparent investigation.

Orwah Hammad was shot in the head in the village of Silwad, north of the Palestinian seat of government in Ramallah.

An IDF spokesman told Reuters Israeli forces "managed to prevent an attack when they encountered a Palestinian man hurling a Molotov cocktail at them on the main road next to Silwad. They opened fire and they confirmed a hit."

The military said it would investigate the shooting, which occurred amid other clashes in Arab areas in and around Jerusalem in which several people were lightly injured.

In Washington, US State Department spokeswoman Jen Psaki called for a "speedy and transparent investigation."

"The United States expresses its deepest condolences to the family of a US citizen minor who was killed by the Israeli Defense Forces during clashes in Silwad on October 24," Psaki said.

She added that US officials would remain "closely engaged with the local authorities, who have the lead on this investigation."

Tensions have flared as the Jewish Sukkot holiday has brought increased visits by Jews accompanied by Israeli police to the Jerusalem holy site known to them as Temple Mount and to Muslims as Noble Sanctuary, with its al-Aqsa mosque complex.

Palestinians fear the visits, along with the moving-in of dozens of Israeli settlers to homes in a crowded Arab district in the shadow of the holy compound, aim to deepen Israel's claim to the city as its eternal and indivisible capital.

Palestinians want East Jerusalem, which was captured by Israel in the 1967 Six-Day War and later annexed in a move not recognized internationally, for the capital of a future state.

On Wednesday, a Jewish baby girl was killed and eight people were hurt when a Palestinian man slammed his car into pedestrians at a Jerusalem light railway stop on Wednesday, in what police described as a deliberate attack. The driver was shot dead.

Her death followed the running-over and killing of Palestinian girl Enas Shawkat, 5, by an Israeli motorist driving in the West Bank in a village just north of Silwad. Her death enraged Palestinians but Israeli investigators determined it was an accident and the driver was not arrested.

Palestinians want to establish statehood in the West Bank and Gaza, territories Israel seized in the 1967 Six-Day War. Israel withdrew soldiers and settlers from Gaza in 2005 but has since expanded settlement in the West Bank and East Jerusalem.

Mutual acrimony has risen since the July-August war between Israel and Hamas militants that killed more than 2,000 Palestinians - mostly civilians - and over 70 Israelis, almost all of them soldiers.

US-mediated peace talks between Israel and the Palestinians collapsed in April.