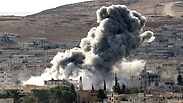 US hits targets in Kobani, Syria
Photo: Gettyimages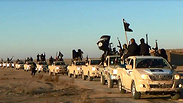 IS forces blocked in Iraq's Jurf al-Sakhar
Photo: AP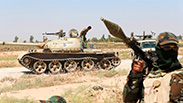 Kurdish forces prepare to fight Islamic State
Photo: Reuters
The United States and its allies conducted 22 air strikes against Islamic State forces in Iraq on Friday and Saturday, the US Central Command said, as Iraqi forces make gains in Baghdad area town.

US warplanes also destroyed an Islamic State artillery piece near Kobani, Syria, officials said Saturday. The 22 strikes in Iraq included attacks in the frequently targeted areas near the vital Mosul dam, the city of Fallujah and the northern city of Bayji, home of an oil refinery.



The Iraq strikes hit large and small Islamic State units, buildings, vehicles and fighting positions, Central Command said. The bomber, fighter and remotely piloted aircraft used in the air strikes all returned safely, US officials said.

Meanwhile, Iraqi security forces have retaken most of the town of Jurf al-Sakhar near Baghdad from Islamic State militants, the biggest gains in months of fighting for the strategic area, senior local officials said on Saturday.

Full control of the town could allow Iraqi authorities to prevent the Sunni insurgents from edging closer to the capital and maintaining connections to their strongholds in western Anbar province as well as infiltrating the mainly Shi'ite south.

"We have managed to push out Islamic State terrorists from the town of Jurf al-Sakhar today and now we are raising the Iraqi flag over the government offices," provincial governor Sadiq Madloul said.
IS set to face off against Kurd forces
Islamic State group fighters made a new bid to cut off the Syrian border town of Kobani from neighboring Turkey Saturday as preparations gathered pace to deploy Iraqi Kurdish reinforcements.

The Kurdish regional government in northern Iraq unveiled plans Friday for up to 200 well-trained peshmerga to join Syrian Kurdish forces defending Kobani in the coming week.

Kurdish news agency Rudaw said the first contingent could head to Kobani as early as Sunday but there was no immediate confirmation of that timetable.

Peshmerga ministry spokesman Halgord Hekmat declined to specify what route the Iraqi Kurdish forces would take, but they are expected to travel overland through Turkey, which has said it will allow them transit.

Since Ankara conceded to US pressure to allow vetted reinforcements into Kobani to prevent Islamic State group winning the high-profile battle for the town, the jihadists have made repeated attempts to cut the border before any help can arrive.

Before dawn Saturday, Islamic State group fighters hit Kurdish forces defending the Syrian side of the border crossing with mortar and heavy machinegun fire, an AFP correspondent on the Turkish side reported.

The heavy mortar fire around the Mursitpinar crossing prompted the Turkish army to order the evacuation of nearby hilltops from where the world's press has been watching the battle for the town.

The Kurdish news agency said an initial peshmerga contingent of 150 was ready to leave for Kobani and would be headed by Sihad Barzani, brother of Iraqi Kurdish regional president Massoud Barzani and head of its artillery brigade.

It cited peshmerga officials as saying that an additional 1,000 Iraqi Kurdish fighters would follow.

Rudaw quoted a senior peshmerga officer as saying that the Iraqi Kurdish forces would deploy with heavy weapons, but that undertakings had been given to both Ankara and Washington that they would not be handed over to Syrian Kurdish forces.

"Our enemies in Kobani are using heavy weapons and we should have heavy weapons too," he said.

The main Syrian Kurdish fighting force in Kobani has close links with the outlawed rebel Kurdistan Workers Party (PKK) which has fought a three-decade insurgency in southeastern Turkey.

Ankara has been adamant that no heavy weaponry should fall into its hands.

Turkey has tightly controlled the flow of both fighters and weapons to Kobani and has accepted only Iraqi Kurdish or Syrian rebel reinforcements for the town.

Washington delivered light weapons to the town's Kurdish defenders last weekend but was forced to do so by air after Ankara refused deliveries by land.

The Turkish government has been one of the leading supporters of the rebel Free Syrian Army in its more than three-year civil war with the Damascus regime and has proposed allowing in 1,000 of its fighters into Kobani.

But Syrian Kurdish officials inside the town have expressed reservations about the Turkish plan, saying that any deployment must have their approval and that FSA forces would be better used opening new fronts against IS elsewhere.

Washington has expressed new confidence that Kobani's fall to Islamic State group can be averted but has cautioned that in neighboring Iraqi a major fight back against the jihadists is still months off.

Reuters and AFP contributed to this report