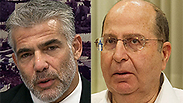 Finance Minister Yair Lapid / Defense Minister Moshe Ya'alon
Photo: Eli Mendelbaum / Ido Erez
"There is a crisis with the Americans and it needs to be addressed as a crisis," Finance Minister Yair Lapid said Saturday after ongoing tensions between Washington and Jerusalem led US officials to block Defense Minister Moshe Ya'alon from meeting with senior administration officials during his current US visit.

"We mustn't pretend there isn't a crisis," Lapid told a crowd in Tel Aviv Saturday. "Our relations with the US are vital and everything that can be done must be done to end this crisis."

Earlier on Friday, Ynet revealed that the Obama administration refused the Israeli defense minister's request to meet with other top officials, including Vice President Joe Biden, Secretary of State John Kerry, and the National Security Advisor Susan Rice.

Since then, reports have said the same officials tried to prevent Ya'alon from meeting with the US UN ambassador Samantha Power – and when the two did meet, Ya'alon reportedly heard mostly of Power's objection to settlement construction.

During the last bout of US-led peace talks, Ya'alon dubbed Kerry's diplomatic efforts "obsessive and messianic," saying "Kerry should win his Nobel and leave us in peace." Ya'alon's current treatment is said to be an attempt to settle the score.

Ya'alon did hold a successful meeting with his US counterpart, Chuck Hagel, indicating that the reason for the cold shoulder was more a testament to personal tensions between Ya'alon and the White House than an attempt to sabotage Israel's relations with the US.

Related stories:

Nonetheless, Lapid, who has locked horns with Ya'alon over peace talks and the defense budget, said "I thought I knew, but now I know the full extent to which our relations with the US are vital to our economy and security."

"The US needs to be thanked, we must remember that when we talk about Operation Protective Edge, we used technology and funds from America. We need to act with more respect. Disagreements are part of the deal and the Americans respect that," he said.
No comment
The White House and State Department declined to comment on internal deliberations about who Ya'alon should see. "I can't speak to any meetings that didn't occur," White House press secretary Josh Earnest told reporters.

The defense ministry also did not issue an official response, but sources close to Ya'alon said that "the aim of the trip was to meet with Hagel and the top security echelon in the US, and that happened. These meetings proved once again the strength of the ties between the defense establishments and between Ya'alon and Hagel."

The rejection was diplomatic blowback from Ya'alon's remarks on Kerry, which were first revealed by Yedioth Ahronoth in the spring. The Israeli politician had called the top US diplomat "messianic and obsessive" behind closed doors, adding that "the only thing that could save us is Kerry winning a Nobel Peace Prize and leaving us alone."

Ya'alon also infuriated officials in Washington with comments accusing the administration of being weak on Iran and by questioning the US commitment to Israel's security. That followed reports that Ya'alon had criticized Kerry for being unrealistic and naive in trying to forge an Israeli-Palestinian peace deal.

Ya'alon said he and Hagel had also talked about the conflicts in Iraq and Syria and the US-Israel defense partnership. Between Israel and the United States, he said, "arguments exist, but we must remember that the US is Israel's most important strategic ally in every respect."

Yitzhak Benhorin, Attila Somfalvi and the Associated Press contributed to this report