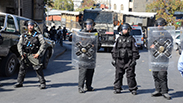 Police stand guard during Friday prayers
Photo: Mohammed Shinawi
Riots broke out on Saturday evening in several locations throughout Jerusalem, where several dozen masked men threw Molotov cocktails and rocks, blocked a road and set fire to trash bins near the Beit Orot yeshiva, located near the At-Tur neighborhood.
One person was lightly wounded by a stone. Police forces and Border Police officers are dispersing the rioters using crowd control measures.
Riots in Silwan (צילום: מוחמד שינאווי)
Assailants also hurled stones at the Jerusalem Light Rail traveling the Beit Hanina-Shuafat line, shattering its windshield. No injuries were reported. Earlier in the day, youths threw stones and fired fireworks at a tractor in the East Jerusalem neighborhood of Silwan. No injuries or damages were reported. The rioters were also dispersed by Border Police officers.
Tensions in the area flared Friday after IDF forces shot and killed a Palestinian who threw a Molotov cocktail near Route 60, east of Ramallah.
The IDF Spokesperson's Unit said the shooting was intended to neutralize a threat to civilians, and that the incident was under investigation.
Palestinian sources reported that 17-year-old Orwah Hammad was shot in the village of Silwad, an area with ongoing clashes.
Hammad's death followed a run-over attack on Wednesday by a Palestinian named as Abed a-Rahman, who plowed his car into crowd of people waiting at the Ammunition Hill station of Jerusalem's Light Rail, killing 3-month-old Israeli-American Haya Zissel Braun and wounding eight others.
Large forces were present Friday morning in the Old City and around pressure points such as Issawiya, French Hill and Silwan. The entrance to the Temple Mount was restricted to male worshipers aged 40 or over, and women of all ages.
There were other clashes in Arab areas in and around Jerusalem in which several people were lightly injured.
Earlier on Friday in Wadi Joz, an east Jerusalem neighborhood, three people were arrested for throwing stones and fireworks at police forces in the area. No one was hurt in the attacks.