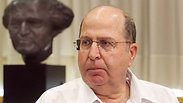 Defense Minister Moshe Ya'alon
Photo: Ido Erez
WASHINGTON: Defense Minister Moshe Ya'alon says misconceptions dominate the West's policy on the Middle East, in general, and the Israeli-Palestinian conflict specifically.

Ya'alon made the comments to the Washington Post as he was visiting the US – a visit which Ynet has learned has been marred by a White House refusal to allow Israel's defense minister to meet top officials. Their refusal has prompted senior coalition minister Yair Lapid to claim there was "a crisis" in US-Israel relations.

According to some, the cold shoulder Ya'alon is receiving is a US attempt to settle the score for an incident which took place last spring, when Ya'alon called US Secretary of State John Kerry's peace efforts "messianic and obsessed," claiming "Kerry should win his Nobel and leave us in peace."

Related stories:

"You caused quite a stir with your remarks about Secretary Kerry," Washington Post's Lally Weymouth told Ya'alon, to which he responded, "We overcame that."

When pressed on the Kerry issue, and asked if recent comments by Kerry according to which there was a link between the stalemate in the peace process and popular support for the Islamic State, Ya'alon responded:

"Unfortunately, we find the Israeli-Palestinian conflict is dominated by too many misconceptions. We don't find any linkage between the uprising in Tunisia, the revolution in Egypt, the sectarian conflict in Iraq and the Israeli-Palestinian conflict. Mainly, these come from the Sunni-Shia conflict, without any connection to the Israeli-Palestinian conflict.

The core of the conflict is their reluctance to recognize our right to exist as a nation state of the Jewish people," Ya'alon said.

Ya'alon was later asked if "that (was) why you said Secretary Kerry should just get a Nobel Prize and go home? Do you think the West just doesn't get it?" To which Ya'alon responded:

"I spoke about misconceptions. It is a misunderstanding, without naming anyone. It might be naiveté or wishful thinking — 'We the Westerners know what is good for the Arabs.' To believe that you can have democratization with elections . . . it is collapsing in front of us. And part of it is ignorance, yes."
Claims of crisis with US are 'nonsense'
A source close to Defense Minister Ya'alon responded to claims that there was a crisis in relations with the US, after Ynet revealed the US officials refused to let Ya'alon meet with top US officials.

The source said Saturday evening that the claims were "nonsense. The visit (to the US) was excellent. Excellent meetings took place; this is mostly noise coming from Israel."

On Friday, Ynet revealed that the Obama administration refused the Israeli defense minister's request to meet with other top officials, including Vice President Joe Biden, Secretary of State John Kerry, and the National Security Advisor Susan Rice.

Ya'alon did hold a successful meeting with his US counterpart, Chuck Hegal, indicating that the reason for the cold shoulder was more a testament to personal tensions between Ya'alon and the White House than an attempt to sabotage Israel's relations with the US.

Thus Ya'alon attempted to play down the claims of a crsis in the country's relations. When asked about a delay in arms shipment during the recent conflict in Gaza, Ya'alon said that "the issue of Hellfire missiles has been solved. It was a bureaucratic issue."

"I can tell you that between the Pentagon and the Israel Defense Forces there is an unbreakable bond," Ya'alon said, conceding that between the politicians there were disputes.

"With all the disputes, the United States is Israel's strategic ally," Ya'alon said.

His comments echo those he made after his meeting with Hagel: Between Israel and the United States, he said, "arguments exist, but we must remember that the US is Israel's most important strategic ally in every respect."

Attila Somfalvi, Moran Azulay and Itamar Eichner contributed to this report