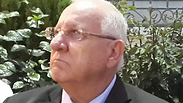 President Reuven Rivlin. Coming full circle
Reuven Rivlin's first official visit abroad as president of the State of Israel will take place in Poland, the country his forefathers emigrated from in the early years of the 19th century after the Vilna Gaon, the leader of non-Hasidic Jewry, called on his students to immigrate to the Land of Israel.

The goal of the trip is particularly symbolic too: Rivlin will be a guest at the inauguration of the Museum of the History of Polish Jews in Warsaw on Tuesday. The museum is dedicated to the 1,000 years in which Jews lived in Poland and became an important and main factor in the country's life.

Jewish Heritage

Warsaw's newly built Museum of the History of Polish Jews sets out to remember not just how Jews in Poland died, but also how they lived.

The Jewish people established their cultural and historical center in Poland throughout the generations, and that same center was completely destroyed by the Nazis from 1939 to 1945.

A total of 3.5 million Jews had lived in Poland before the German invasion, making up a significant portion of the main cities' population. In Warsaw, for example, one in three residents was Jewish. In Krakow, Lodz and other cities, one in four residents was Jewish. Today, there is no trace of that. Only several thousand Jews live in Poland right now.

The new museum was initiated by the Polish authorities, the Municipality of Warsaw and the association of the Jewish Historical Institute. It was built over some 4,500 square meters on the site of the former Warsaw Ghetto, opposite the Ghetto Heroes Monument sculpted by Nathan Rapoport.

Rivlin will attend Tuesday's inauguration alongside Polish President Bronislaw Komorowski, diplomats, politicians and officials from all over the world, as well as donors from the United States, Europe and Israel.

The museum uses modern technologies such as simulations, 3D displays, multimedia, duplications of historical models and more, which turn the visit into an experience in every sense of the word.

The museum's construction took seven years. It was designed by Finnish architect Rainer Mahlamäki. Prof. Dariusz Stola, a world renowned Polish historian, will serve as its director. A team of some 120 historians from Poland, the US and Israel shaped the museum's historical narrative with the help of the project's team of curators.