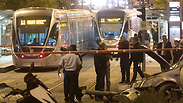 The light rail attack
Photo: AFP
Ecuadorian Karen Mosquera, 22, who was critically wounded in the Jerusalem light rail terrorist attack last week, succumbed to her wounds on Sunday at the Hadassah Medical Center in Jerusalem's Ein Kerem, raising the death toll in the incident to two people.

Mosquera arrived from Ecuador a year and a half ago and was in the process of converting to Judaism. She spent the past two months in a Midrasha, an institute of Jewish studies for women, with other women from South America.

Related stories:

"She was wounded while on her way to a Torah lesson," a friend of Mosquera said. "She was a quiet girl who believed in her path, fought to become a Jew and nothing bothered her."

The friend went on to say, "We live on miracles. The news of the injury was difficult for the girls, this is the first time they have encountered terrorism."


On Wednesday evening, a Palestinian plowed his car into a crowd of people waiting at the Ammunition Hill station of Jerusalem's light rail.

The driver - Abed a-Rahman a-Shaludi, a resident of the village of Silwad with a record of security related offenses - attempted to flee the scene on foot, but was shot by police and later succumbed to his wounds at the hospital. He was scheduled to be buried on Sunday night.

A three-month-old baby girl, Haya Zissel Braun, was also killed in the deadly attack, that left several others wounded.