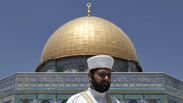 Palestinian man outside Al-Aqsa Mosque in Jerusalem
Photo: AFP
Jordan warned Israel on Sunday their peace treaty would be threatened by continued Jewish settlement building on disputed land sought by the Palestinians and any change to the religious status of a key Muslim shrine in Jerusalem.

"All such acts are incompatible with international law and international humanitarian law and if allowed to continue will ultimately imperil the treaty," Jordan's ambassador to Israel, Walid Obeidat, said at an event for the treaty's 20th anniversary.

Obeidat was referring to efforts by far-right Israelis to change the status of a plaza near the al-Aqsa mosque holy to Jews as the place where two ancient temples stood, and reports of plans to build more settlements in land Palestinians want for a state.

Prime Minister Benjamin Netanyahu has said Israel would not change the status of the holy site, which since Israel's capture of East Jerusalem in a 1967 war has been administered by Muslim authorities, and Jewish prayer held at the nearby Western Wall remnant of an ancient temple.

But Netanyahu's right-wing political allies have been pressing to introduce legislation to permit Jewish prayer in the vicinity of the mosque which Jews call the Temple Mount, and Muslims know as Haram es-Sharif, the site where the Prophet Mohammed rose to heaven.

Tensions have erupted there in past weeks during visits by religious Israelis to the site.

Defence Minister Moshe Ya'alon, in a separate speech, called for "avoiding needless tensions in the holy places".

"As someone who experienced wars and lost the best of my friends to them, I am aware to the depth of my heart of the importance of peace," said Ya'alon, a former chief of staff of Israel's military.

Ya'alon, a settlements champion, suggested Israel would be more hesitant to yield land for peace to the Palestinians who seek a state in the West Bank and Gaza, land Israel captured in the 1967 war. It withdrew troops from Gaza in 2005 but kept tight controls over that territory's crossings.

"As defence minister of the State of Israel I will not compromise on the security and the lives of Israeli citizens, nor will I gamble with them," Ya'alon said.

The treaty with Jordan along Israel's eastern frontier was signed in 1994, making it Israel's second peace deal with an Arab neighbour after a 1979 pact with Egypt.