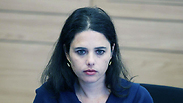 MK Ayelet Shaked
Photo: Gil Yohanan
Members of Israel's judicial system warned Sunday night that the approval of a law to bypass the High Court by the Ministerial Committee for Legislation is a threat to democracy.

"I hope that reason will prevail with an appeal to be submitted to the government by the Minister of Justice, and it will thwart this initiative, which is a very trying time for democracy," retired Supreme Court Justice Eliyahu Mazza told Ynet.

On Sunday afternoon, the Ministerial Committee for Legislation approved a bill by Ayelet Shaked of Bayit Yehudi, which seeks to introduce a clause to the Basic Law: Human Dignity and Liberty that would allow the Knesset to enact a law for a period of four years, once it had been struck down by the Supreme Court.

This form of "overcoming limitations" is akin to a clause within the Basic Law: Freedom of Occupation, which states that "a law that violates freedom of occupation shall be of effect… if it has been included in a law passed by a majority of the members of the Knesset… such law shall expire four years from its commencement unless a shorter duration has been stated therein."

Shaked introduced the legislation proposal after the High Court dismissed her bill to permit asylum seekers to be held indefinitely. It was approved Sunday afternoon with eight lawmakers voting in favor. Justice Minister Tzipi Livni has already announced her intention to submit an appeal to the government; ministers Yaakov Perry and Yael German from Yesh Atid also opposed the bill.

"This is not about whether to pass or not to pass a different law on infiltrators, but it an attack on the infrastructure of the system," Mazza told Ynet on Sunday evening. "The role of the Knesset is to legislate, and the role of the court is to criticize."

Prof. Yoram Rabin, an expert on constitutional law and human rights and Dean of the Faculty of Law at the College of Management, also took decisive stance against the law.

"I think it's a bad fix that harms democracy and human rights. Ostensibly, a law is a law and an amendment is an amendment, but this is contrary to the spirit and the idea of a constitution and constitutional review, and on a fundamental level is unacceptable."

Attorney General Yehuda Weinstein last week also expressed his antipathy to the bill.

"The Attorney General's position is to oppose the bill strongly," said Weinstein's office. "This is primarily because the proposed arrangement allows the Knesset to violate the rights of the individual without significant restrictions or procedures, except for the feeble demand for support of at least 61 members of the Knesset."