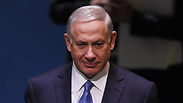 Benjamin Netanyahu: Appeasing the base
Photo: Shahar Azran
Prime Minister Benjamin Netanyahu is pushing forward plans for a spate of building projects in Jerusalem, beyond the Green Line, just as the Knesset returns for its winter session. On Monday night, the prime minister will order the advancement of plans for more than a thousand units in Jerusalem, all over the Green Line.

According to details confirmed to Ynet by officials in the Prime Minister's Bureau, the plans include approximately 660 housing units in Ramat Shlomo and another 400 in Har Homa.

In addition, Netanyahu has ordered the promotion of infrastructure projects in the West Bank – in particular roads - for security and safety needs. The directive comes after a report Sunday that the government intends to build some 2,000 more housing units in the large settlement blocs in the West Bank.

On Tuesday, the Jerusalem District Committee for Planning and Building will once again discuss a plan for 1,531 units to be built in Ramat Shlomo. The plan received final approval in November 2013.

Part of the land involved has already been handed over to contractors by the Israel Lands Administration. The new discussion will not deal with the housing units themselves, but rather objections to the technical stages of implementation, such as construction permits.

It seems that Netanyahu is seeking to mollify his base on the right for Monday's start of the winter session, which is expected to be stormy, and before making any significant decisions on controversial issues such as the High Court bypass bill or the conversion bill.