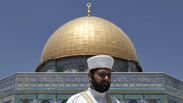 A Palestinian outside of al-Aqsa mosque.
Photo: AFP
Amid ongoing violence in East Jerusalem and a recent terrorist attack in Jerusalem that left two dead, Palestinian Prime Minister Rami Hamdallah visited the al-Aqsa Mosque on the Temple Mount on Monday.
Hamdallah was accompanied by other high-ranking Palestinian officials, including the head of PA intelligence services.
The al-Aqsa mosque has been at the center of recent tensions after MK Miri Regev (Likud) introduced a bill that would enable Jews to pray at the Temple Mount, a move that aims to change the norms at the holy site, for decades administered by the Islamic Waqf. Last week, Palestinian President Mahmoud Abbas warned that such proposed changes would ignite religous conflict across the region.
Meanwhile, the Knesset Interior Committee held a meeting on Monday with the participation of Internal Security Minister Yitzhak Aharonovich, officials from government ministries, police and residents of the capitol. During the meeting, Aharonovich announced that the police presence in the city had been increased.
"We have added 50 police officers in recent months and another 100 officers to the district of Jerusalem," Aharonovich said.
"We created a police unit at the Mount of Olives. We have established a new unit – the Kedem unit. We saw that these incidents are still continuing and we decided to increase our forces. We have added another 1,000 police officers from special units that are already working in the city," he said.
Aharonovich accused the Palestinian Authority and Abbas of incitement on social networks and in the media. He said that 120 police officers had been injured during the recent riots. As of now, 900 suspects have been arrested and 300 indictments were filed.
"We are giving Jerusalem all that it needs. She has always been in the eye of the storm and will probably always be," said Aharonovich.
"The conflict draws a lot of energy into Jerusalem and we must act wisely," he said.
Omri Efraim contributed to this report.