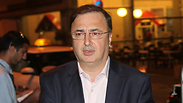 Lev Leviev
Photo: Motti Kimchi
Africa Israel Investments staged an event on Sunday to announce a significant expansion of its construction projects in central and West Jerusalem – 935 housing units at an investment of NIS 2.4 billion. The biggest noise, however, came from Oren Hod, CEO of Africa Israel Residences, who surprisingly announced: "We won't be building beyond the Green Line."
This change in policy does not apply only to the company's entrepreneurial arm, Hod's domain, which hasn't been significantly active in such areas in any event, but to its executive arm, too, including the Danya Cebus construction firm, which also built for other companies. The decision means that Africa Israel will not participate in new tenders in Pisgat Ze'ev, Har Homa, Gilo and parts of Ramot.
The main reasons behind the Africa Israel decision are believed to be the political and security developments in Jerusalem in recent years, coupled with protests around the world against the company due to construction beyond the Green Line. According to Africa Israel sources, another reason for the decision is that construction in those areas is not economically viable.
Danya Cebus, a subsidiary of Africa Israel, has carried out construction projects in East Jerusalem in the past. Among other places, the company has built in Har Homa, Gilo, Ma'aleh Adumim, Ariel and Adam, and was also responsible for a huge neighborhood, East Matityahu, in Modi'in Illit.
Africa Israel has come under a boycott since 2008 because of its operations beyond the Green Line. That same year, UNICEF announced it was cutting ties with Israeli billionaire Lev Leviev, who had sponsored a portion of the UN organization's activities, because of "his involvement in the building of settlements in the West Bank."
Also in 2008, Dubai threatened to sever ties with Leviev's agents in the diamond trade abroad following demonstrations by the pro-Palestinian Adalah organization. And subsequently, following reports that the British Embassy was planning to lease a property from Africa Israel, a columnist in the Guardian newspaper wrote: "Rewarding Leviev with the contract for our new embassy shows that Her Majesty's government is not serious about stopping Israeli settlements."
In 2009, BlackRock UK, one of the world's preeminent asset management firms, sold all its Africa Israel stock, despite having held a large stake in the company. According to reports, the move came as a result of pressure from the three Norwegian banks that market BlackRock funds. In 2012, New Zealand-government investment funds that turn over investments to the tune of some $20 billion joined the boycott.
In 2011, Adalah-New York demanded that the Fashion Institute of Technology, which was staging an exhibition of British designer Daphne Guinness' clothing at the FIT's museum in New York, reject funding from the LVD Foundation, headed by Leviev. "We feel confident that you do not wish to tarnish the good name and the good works of the Fashion Institute of Technology by associating yourself with Lev Leviev's companies' human rights violations and questionable business practices," Adalah-NY wrote in its appeal.
Last January, the Norway's Finance Ministry announced a boycott of the company and its removal from the investment portfolio of its Government Pension Fund Global after the Norwegian Council of Ethics found that Africa Israel is active in East Jerusalem. The pension fund is managed by the Norwegian central bank and is designed to ensure more efficient and equitable utilization of the Norwegian oil money.
"The decision to exclude Africa Israel and Danya Cebus from the fund stems from their contribution to significant violations of human rights in the framework of a war or conflict by means of building settlements in East Jerusalem," read the Norwegian announcement.
According to a statement at time from the company, "Africa Israel and its subsidiaries operate in Israel and around the world with the purpose of promoting their business activities in accordance with the law in place in every country in which they operate. In light of this, all we can do is express regret for this decision that pertains to Africa Israel and other large Israeli companies, and wonder how it serves the best interests of the citizens of Norway whose money is managed by this fund."
As mentioned above, in conjunction with its decision to cease construction activities beyond the Green Line, Africa Israel Residences is expanding its investments in the center and west of the city and is looking for additional land reserves, having recently acquired Mapai House on Jaffa Street where it is planning a 170-apartment high-rise at an investment of NIS 380 million.
Among others, the company will also be erecting two high-end projects – at 7 HaRav Kook Street, which will comprise 131 apartments at an investment of NIS 300 million, HaNevi'im Courtyard, where the company will be selling two-room apartments at NIS 1.82 million and three-room apartments at NIS 2.95 million. The company is also currently marketing its Savyonei Arnona project, with the Savyonei Ramat Sharet project to go on the market soon too. Africa Israel is also moving ahead with the planning of its President's House hotel project, which will include residential and hotel space.
According to Oren Hod, the company is looking for additional projects in the capital as prices have yet to reach their peak level. "In Rishon Lezion West, we are selling for NIS 2.9 million, and the same apartment in Savyonei Arnona is going for NIS 2.4 million."