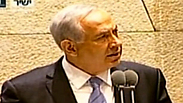 Prime Minister Netanyahu opened the Knesset's winter session on Monday with a wide-ranging speech emphasizing the country's security concerns and Israeli sovereignty over Jerusalem.

"Israel has every right to build in Jewish neighborhoods of Jerusalem," he said, but stressed that the "violence against us is not the result of construction in Jerusalem."

The prime minister reiterated that terrorism does not come from Jerusalem construction it "comes from the desire of our enemies for us not to be here at all."

"The Palestinians demand the establishment of a Palestinian state without peace and without security. They demand a withdrawal, the right of return and a division of Jerusalem. They refuse to accept the elementary condition for peace between two nations – mutual recognition," Netanyahu said.

The prime minister further stated that "the Palestinians must have a desire for peace as well, and unfortunately I see no such desire."

Netanyahu also returned to his familiar refrain, arguing that "there is no greater danger to our region than the attempt by Iran to become a nuclear-threshold state."

The Israeli leader subtly criticized the American administration's priorities following their focus on the threat posed by radical Islamist rebels at the expense of the negotiations with Iran. "To defeat the Islamic State and leave Iran as a threshold-state is to win the battle but lose the war."

Labor leader and Opposition Chairman Isaac Herzog, who also addressed the Knesset, criticized Netanyahu's policies: "This budget and the decisions you made come at the expense of our children's future, the housing needs of our citizens, our living costs and they hurt the middle class."

"The public is not stupid, and is not willing to continue to pay. The prime minister will be paying the price – soon, he will be paying with his seat," Herzog said.

President Reuven Rivlin opened his speech with a plea to Knesset Members to fight against racism and verbal violence.

"We meet here today after a difficult, bloody and painful summer. During this long summer, we succeeded in uniting against an external enemy. Unfortunately, however, we also dedicated time to branding enemies at home," Rivlin said, adding that during the summer conflict, his critics unleashed assaults such as "go be a president in Gaza" and "traitor", following certain statement that he had made.