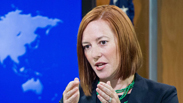 State Department spokesperson Jen Psaki
Photo: AFP
WASHINGTON – The US State Department said Monday that recent Israeli actions are not reflective of an administration pursuing peace. During the daily press briefing, spokesperson Jen Psaki stressed that Israel must lower tensions and take the proper steps towards living in peace.

"We view settlement activity as illegitimate and unequivocally oppose unilateral steps that prejudge the future of Jerusalem," she said.

The State Department expressed concerns following reports of expedited construction beyond the Green Line. Psaki told journalists that the US is in high-level contact with the Israeli embassy to receive more information about the proposed move.

She emphasized the US position on the settlement construction's illegality and its general opposition to unilateral moves by either party.

The State Department spokesperson added that the US administration had disagreements with Israel – including regarding the settlement enterprise – but that ties to the Jewish State were strong and security coordination was tighter than ever.

US Secretary of State John Kerry spoke with Prime Minister Netanyahu on the phone over the weekend – after Ynet revealed that American officials prevented Defense Minister Moshe Ya'alon from meeting key administration figures during his visit to Washington, DC.

State Department officials said after the call that the top American diplomat reiterated the US position to the Israeli prime minister and reminded him of the international responses to the recent advances on the settlement enterprise.

Meanwhile, the EU said Monday it was seeking Israeli clarification of reports it planned to build another 1,000 homes in annexed east Jerusalem, voicing new concern about the peace process.

If the reports are confirmed, "it will call once again into serious question Israel's commitment to a negotiated solution with the Palestinians," a spokeswoman for EU foreign affairs head Catherine Ashton said.

The European Union could only "condemn such an ill-judged and ill-timed decision" if the plans went ahead, spokeswoman Maja Kocijancic said.

In his speech to the Knesset plenum ahead of the winter session, Netanyahu underlined his intention to continue construction in Jerusalem.

"Even the Palestinians know that these places will stay in Israeli sovereignty under any agreement," he said. "The French build in Paris, the English build in London and the Israelis build in Jerusalem. To come and tell Jews not to live in Jerusalem – why?"

AP and AFP contributed to this report.