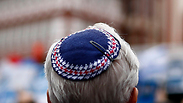 Protest in Frankfurt
Photo: Reuters
"It's hard being openly Jewish in Europe today," Gideon Bachar, the Director of the Department for Combating Anti-Semitism and Holocaust Remembrance in the Foreign Ministry, said Monday.

An experts' meeting on the topic of fighting anti-Semitism and racism conducted in Jerusalem today led to various estimates as to the future of the Jewish community in Europe and links between radical Islam and anti-Semitism.

"Anti-Semitism is like Ebola," Bachar said. "It's a virus. It constantly accumulates mutations. It changes all the time, adapts itself to the situation, and is transnational. The rise in anti-Semitism is a danger to civilization and to democracy in general."

The meeting was attended by Yad Vashem representatives, the State Attorney's Office, the Association of Israeli Students and European Union representatives.

"We are witnessing a strong willingness and desire to take action against this phenomenon," Bachar said. "There is an understanding of the problems it poses. Europe is seeing a steady and substantial increase in Anti-Semitism."




Ido Daniel, Program Director at Israeli Students Combating Anti-Semitism, displayed during the meeting a photo of a French Facebook page with names, pictures and information about Jewish residents, including their place of prayer and the parks where they take their children.

He also showed the attendees a faux Adolf Hitler Twitter account, with more than 370,000 followers, that has since been suspended. "The man tweeted a picture of Birkenau and wrote: 'It's a great day at work today,'" Daniel read out the sentence




According to Bachar, various European initiatives which include prohibitions on circumcision and kosher slaughter "do not stem from anti-Semitic motives, but they do pose a real threat to the continued existence of Jewish life in Europe. Apart from them, hundreds of anti-Semitic demonstrations have taken place. We are diagnosing three phenomena: Leaving the country, assimilation or isolation."

Bachar also spoke about recent occurrences in which people removed mezuzahs from their doors, concerns of wearing a yarmulke in public while going to the synagogue and the hiding of Jewish identity.