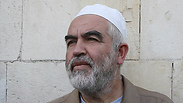 Raed Salah, the leader of the northern branch of the Islamic Movement in Israel
Photo: Gil Yohanan
With the opening of the Knesset's winter session on Monday, Foreign Minister Avigdor Lieberman has instructed Yisrael Beiteinu MK Alex Miller to push a bill proposal meant to outlaw the northern branch of the Islamic Movement in Israel.
The proposal, submitted on Monday, noted that: "Recently, we've witnessed the strengthening of radical Islam in our region, spreading a lot of death and destruction while demolishing the rule of law.
"The northern branch of the Islamic Movement is openly undermining the sovereignty of the State of Israel, while making a cynical use of the institutions and basic values of a Jewish and democratic country."
The bill proposal went on to say that "as time goes by, we can see that the activity of the northern branch is leading to violence and provocation in the Arab minority in Israel, while maintaining close ties with the terror organization Hamas. This activity is even more destructive, as it is being done from within the state's institutions."
The Islamic Movement in Israel (also known as the Islamic Movement in 48 Palestine) is an anti-Zionist movement that aims to advocate Islam among Israeli Arabs.