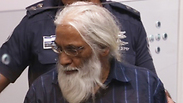 Goel Ratzon in court
Photo: Motti Kimchi
The Tel Aviv District Court sentenced polygamist Goel Ratzon on Tuesday to 30 years in prison for sex crimes against his wives and daughters as part of what prosecutors described as a mind-boggling saga of dominance and delusions of deity.

Last month, Ratzon, 64, was convicted of a number of sexual offences, including rape of a number of his wives. He was cleared, however, of separate counts of enslavement regarding 21 spouses and 38 children he had kept in various homes around the city. He was also found guilty on the majority of the other sexually related offenses, condemning him in the highly publicized trial as a serial rapist.





Ratzon, who had been living with 21 women throughout the years and fathered 49 children, was charged with nine counts, including rape, indecent assault and sexual offenses within the family.

He had denied the charges of rape and indecent assault, arguing that the women, many of whom had his name and portrait tattooed on their bodies, lived with him of their own accord.

Ratzon was charged in February 2010 with dozens of sexual offenses, including rape, sodomy, and indecent assault of his wives, and some of his victims were said to include minors. He was also accused of fraud and treating his wives like slaves.

He was arrested in January 2010 in a wide-scale police operation which garnered much media fanfare. His son, Yigal Ratzon, continues to maintains his father's innocence.

Following the sentencing, the complaintants said the punished was "appropriate and fitting for what happened," while Ratzon's son, Yigal Ratzon, called the sentencing "strange."

"I can't comprehend (he got) 30 years. I thought he would get 7 years," he said.

Maayan, one of Ratzon's ex-wives, said "the only source of happiness is that he would never return to society."

Ratzon's attorney said the sentencing was "severe and harsh and it's obviously hard for him to hear. We'll consider our next steps."
Ratzon a no-show at court
It was an embarrassing morning for the Israel Prison Service's Nahshon unit on Tuesday when they failed to produce Ratzon to the Tel Aviv District Court for his sentencing.
Ratzon is imprisoned in the Eshel prison in Be'er Sheva, and only two days ago he learned he would receive his sentence on Tuesday.
The IPS said a glitch in its computers system caused the delay in Ratzon's arrival at court, which delayed the sentencing hearing as a result.
Horrors
Many of the indictment articles refer to sexual offenses allegedly committed by Ratzon and read like a horror novel. One describes a 19-year-old girl who was allegedly raped by Ratzon from the age of 15 to 17 on a nearly daily basis.

Ratzon is also accused of raping and sexually harassing a girl whose mother died when she was a baby. According to the indictment, he distanced the girl from her family and promised to marry her. He convinced her that he had supernatural powers and ignored her request to stop touching her.

Several days later, he allegedly took a shower with the girl then and raped her. When she complained that it hurt, he responded, "Don't worry, you'll get used to it." In another incident, he performed forced oral sex on the same girl and then proceeded to rape her again.

In an interview he gave to Yedioth Ahronoth in 2010, the first since his arrest, Ratzon denied the charges against him and claimed his relations with the more than 30 women who lived with him were based on love and respect.

During the interview Ratzon said: "There was no slavery. We had warm relations. (There was) full understanding between us, a genuine desire to help one another. A woman does not stay in a place she is not pleased with for 15 years."

Reuters contributed to this report.