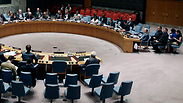 UN Security Council
Photo: EPA
The UN Security Council will hold an emergency meeting Wednesday to discuss Israeli plans to build more Jewish settlements in east Jerusalem, diplomats said.

The urgent talks were requested by Jordan following a letter from Palestinian envoy Riyad Mansour, who called on the 15-member council to "address this crisis situation in occupied east Jerusalem."

Prime Minister Benjamin Netanyahu's government pledged to build more than 1,000 new settler homes in east Jerusalem on Monday, angering Palestinians who warned it could trigger an "explosion" of violence.

In his letter, the Palestinian representative called on the council to demand that Israel rescind its plan immediately and "commit to the path of peace that it has clearly and recklessly abandoned."

On Tuesday, Israeli Prime Minister Benjamin Netanyahu hit back at US and European criticism of the plan for more settlement building, saying the statements were "detached from reality."

The European Union said the plans "call once again into serious question Israel's commitment to a negotiated solution with the Palestinians," warning of consequences for EU-Israel ties.

Washington said it was "deeply concerned" by the plans, adding that "moving forward with this type of action would be incompatible with the pursuit of peace."

But Netanyahu insisted Israel would not change course. "We will continue to build in Jerusalem, our eternal capital," he said.

UN Secretary General Ban Ki-moon last week urged Israel and the Palestinians to move away from unilateral actions that stoke tensions and work toward restarting peace talks. "International law is clear: settlement activity is illegal. It runs totally counter to the pursuit of a two-state solution," Ban said.

UN diplomats say the Israeli push to build more settlements is imperiling the two-state solution and dimming prospects for Palestinian statehood on land that is riddled with Jewish settlements.

The council meeting on the Israeli actions comes as the Palestinians are pushing for a UN resolution setting 2016 as the date for the end of Israeli occupation.

UN Under-Secretary General for Political Affairs Jeffrey Feltman is expected to brief the council at the meeting on Wednesday.