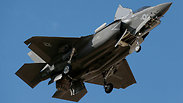 A F-35 stealth fighter jet set to be purchased by Israel.
Photo: AP
The mounting tensions between Israel and the US did not dissuade the long-time allies from completing a multi-billion dollar deal for Israel to purchase its second squadron of the advanced F-35 stealth fighter jets.

The agreement was made despite the ongoing diplomatic disputes between Washington and Jerusalem over Prime Minister Benjamin Netanyahu's decision to expedite settlement construction and the uneasy relations between President Obama's administration and Israeli Defense Minister Moshe Ya'alon.

The new squadron will consist of 19 warplanes and will cost between 2.5 to 3 billion dollars. The bill will be paid using the US foreign military assistance, while construction and delivery will be spread out over several years.

The advanced stealth fighter's US manufacturer, Lockheed Martin, is expected to gradually introduce the first squadron's jets into the Israeli arsenal starting in 2016 and complete delivery by 2018. The second squadron will be phased into the Israeli Air Force the following year, pending approval by an Israeli government panel.

The possibility of acquiring an additional flight squadron was raised several times in the past year, including comments made by defense establishment officials who voiced their belief in the need for three full F-35 squadrons.

Nevatim airbase in southern Israel has started installing the infrastructure necessary for the first squadron's arrival, while the first Israeli F-35 pilots will be selected next year.

IAF sources have publicly stated over the past two years that Israel's air superiority has been hurt by the advanced anti-aircraft systems purchased by Syria from Russia. Efforts were launched to sabotage and use counter-intelligence to protect the IDF's freedom to operate in Lebanon and Syria.

Meanwhile, the F-35s purchased were marketed as advanced stealth fighters capable of evading the majority of anti-aircraft systems held by enemy forces, providing Israel the possibility of operating in long-range targets.

Each F-35 carries a hefty price tag – some $100 million – which will be funded through the annual US military aid package to Israel. However, the various difficulties discovered during the jet's testing phase has led to its development budget rising $7.4 billion, some of which is expected to be passed on to future buyers.

The US embassy in Israel had no immediate comment and the Pentagon's F-35 program declined to comment.Lockheed said it would be inappropriate to comment since arms sales are handled on a government-to-government basis.

In July, Lorraine Martin, Lockheed's F-35 program manager, told reporters that $170 million of industry investment in cost reduction initiatives will cut the cost of each F-35 fighter jet to about $80 million, including the engine, by 2018.

Washington gives Israel some $3 billion in annual defense grants, most of which it spends on US products. Israeli companies, including Elbit Systems Ltd. and state-owned Israel Aerospace Industries (IAI), contribute technologies to the F-35 Joint Strike Fighter program.

Reuters contributed to this report.