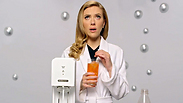 Scarlett Johanssan in a SodaStream commercial. (Photo: AP)
Photo: AP
Israeli drink maker SodaStream International Ltd. will relocate a factory next year that activists criticized for being in an Israeli settlement in the West Bank, a representative said Wednesday.

Nirit Hurwitz, a SodaStream representative, said that the facility will move in 2015 to Lehavim, in Israel's southern Negev region. She said the decision to move is for "purely commercial" reasons and is not connected to pressure from Palestinian activists who had boycotted the company because of its location.

Palestinian activists previously launched a campaign boycotting the company because of the factory in an Israeli settlement in the West Bank, a disputed territory captured by Israel in 1967 from Jordan during the Six-Day War and a crucial part of land for the Palestinians who see it as an integral part of a future Palestinian state.

Related stories:

Hurwitz said the new location received a $20 million grant from the Israeli government. The new location "will become our flagship manufacturing site and is expected to deliver operational excellence and result in savings of 2 percent across our entire cost base," she said.

The Palestinian boycott campaign welcomed the announced move, saying its boycott caused retailers to drop SodaStream.

SodaStream employs hundreds of Palestinians and gives them equal benefits as Israeli workers. Most of them are from nearby West Bank towns. For Palestinian workers from Ramallah, the new facility will be 107 kilometers (66 miles) away. For those from Hebron, it will be 48 kilometers (29 miles) away.

"We are offering all employees the opportunity to join us in Lehavim, and specifically, we are working with the Israeli government to secure work permits for our Palestinian employees," SodaStream CEO Daniel Birnbaum said.