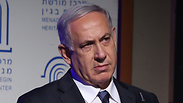 Netanyahu
Photo: Gil Yohanan
The Obama administration tried to distance itself Wednesday from derisive comments attributed to administration officials against Prime Minister Benjamin Netanyahu.

"Certainly that's not the Administration's view, and we think such comments are inappropriate and counter-productive," National Security Spokesperson Alistair Baskey said on behalf of the White House.

"Prime Minister Netanyahu and the President have forged an effective partnership, and consult closely and frequently, including earlier this month when the President hosted the Prime Minister in the Oval Office."

Related stories:

Senior American officials were quoted by The Atlantic's Jeffrey Goldberg on Tuesday as calling Netanyahu a "coward" on tackling Iran and "chickenshit" who is only interested in his own political survival.

Goldberg writes that over the years Washington officials have described Netanyahu as recalcitrant, myopic, reactionary, obtuse, blustering, and pompous – but none of these insults were as surprising, he says, as "chickenshit."

One of the officials told Goldberg that the Obama administration no longer believes Netanyahu's threats of a preemptive airstrike on Tehran's nuclear facilities.

On Wednesday morning, however, the Americans stressed that "obviously, despite the extremely close relationship between the US and Israel, we do not agree on every issue. For instance, we have repeatedly made clear the United States' longstanding view that settlement activity is illegitimate and complicates efforts to achieve a two-state solution."

Nevertheless, the National Security spokesman assured that "The US-Israel relationship remains as strong as ever, our security bonds have never been greater, and the ties between our nations are unshakable. We remain fully and firmly committed to Israel's security.

"And, Prime Minister Netanyahu has repeatedly affirmed that he shares the US view that the best solution to the Israeli-Palestinian conflict is to establish two states living side by side in peace and security," Baskey concluded.

"The prime minister and the president have forged an effective partnership, they consult closely and frequently and did so as recently as this month right here at the White House in the Oval Office," White House spokesman Josh Earnest said. "That close relationship does not mean that we paper over our differences. The fact is the United States has repeatedly made clear our view that settlement activity is illegitimate, and only serves to complicate efforts to achieve a two-state solution in the region."

Earnest said there was no effort to determine the identities of the official who made the remark.

National Security Advisor Susan Rice also waded in, saying: "The relationship is not in crisis."

"The relationship is actually fundamentally stronger in many respects than it's ever been," she told a Washington forum.

Rice was meeting on Thursday with her Israeli counterpart, Yossi Cohen, and senior delegation of Israeli officials for the US-Israel Consultative Group Meeting - a biannual event.

The State Department has also made an effort in distancing itself from the acrid comments, with spokeswoman Jen Psaki calling the comments "inappropriate and counterproductive."

Secretary of State John Kerry, as well as President Obama, she said, "don't view that language and those words as appropriate or accurate."

She noted Kerry "certainly feels strongly that a war of words is not productive from either side," noting that "we believe that moving forward it's in the best interest of both sides to address any issues that may arise appropriately and respectfully, and not through personal attacks."

Kerry, she said, will make it clear to Netanyahu that such statements were not the position of the US administration when the two next speak.

Earlier Wednesday, Netanyahu hit back against the damning comments, saying he was "being attacked because I'm defending Israel."

"I respect our ties with the US," Netanyahu said, but added, "I'm not ready to make concessions that would endanger our country."

On Capitol Hill, Republicans and some Democrats pounced on the anonymous comments and criticized the administration.

"When the president discusses Israel and Iran, it is sometimes hard to tell who he thinks is America's friend and who he thinks is America's enemy," the Republican leader of the House, Speaker John Boehner, said. "Over the last several months, I have watched the administration insult ally after ally. I am tired of the administration's apology tour. The president sets the tone for his administration. He either condones the profanity and disrespect used by the most senior members of his administration, or he does not.

House Majority Leader Kevin McCarthy, a Republican, said "responsible presidents ensure their advisers work through policy differences with our closest partners respectfully and through the appropriate channels."

Rep. Eliot Engel, the top Democrat on the House Foreign Affairs Committee, called the comments "counterproductive" and "unprofessional."

There have been growing concerns of a new crisis in Israeli-US relations after US officials said the Obama administration last week refused Defense Minister Moshe Ya'alon's requests to meet several top national security aides. The rejection followed negative comments Ya'alon made about Secretary of State John Kerry.

The Obama administration has long has a tense relationship with Netanyahu for his close relationship with the Republican Party and for what is often perceived as a lecturing tone toward the president. Netanyahu, meanwhile, has been suspicious of US efforts to reach a diplomatic agreement over Iran's nuclear program that fails to remove the threat of it acquiring a bomb.

Even within Netanyahu's coalition there are those, like Finance Minister Yair Lapid, who have vocally expressed worry over the crisis with the United States and said it must be resolved before it endangers Israeli interests.

Among the greatest concerns are that the US may withhold its vast military aid to Israel and stop protecting it from diplomatic attacks at the United Nations.

Economics Minister Naftali Bennett called on the US to "distance itself from the rude remarks and reject them outright," adding that such abuse not only targeted the prime minister but all Israelis.

However, opposition leader Isaac Herzog placed the blame on Netanyahu, accusing him of playing "political games" with the American administration.

"Netanyahu acts like a political pyromaniac and has brought relations with the United States to an unprecedented nadir," he told Israel's Channel 2 online.

The Associated Press and AFP contributed to this report.