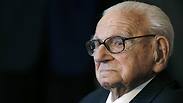 Sir Nicholas Winton recieves the White Lion award from Czech president.
Photo: AP
The President of the Czech Republic Milos Zeman awarded British citizen Sir Nicholas Winton his country's highest state honor for organizing a mass evacuation of children to save them from Nazi death camps.
Sir Nicholas Winton received the Order of the White Lion from President Milos Zeman at a ceremony Tuesday at Prague Castle. Accepting the award, the 105-year-old Winton said he was delighted to receive it.
National Hero
Leo Melamed honors Chiune Sugihara, who over a period of roughly a month issued visas that allowed 6,000 Jews to escape war-torn Lithuania and advancing Nazis - saving several times as many people as Oskar Schindler.
"I want to thank you all for this tremendous expression of thanks for something which happened to me nearly 100 years ago," Winton joked. "And 100 years is a heck of a long time."
Winton had arranged for eight trains to carry 669 children, most of them Jewish, from Czechoslovakia through Hitler's Germany to Britain in 1939 at the outbreak of World War II. The youngsters were sent to foster parents mostly in England and small number in Sweden.
Winton's story did not emerge until 1988, when his wife found correspondence referring to the prewar events. In 2002, British Prime Minister Tony Blair praised him as "Britain's Schindler," after the German businessman Oskar Schindler, who also saved Jewish lives during the war.
Zeman said he was sorry that Winton had waited so long to get the honor but added: "Better late than never."
Winton was awarded another top Czech decoration, the Tomas Garrigue Masaryk Order, in 1998 by the late President Vaclav Havel.
Winton gave credit to the many foster parents who made the mission possible.
"I thank the British people for making room for them, to accept them and of course, the enormous help given by so many Czechs who were at that time doing what they could to fight the Germans and to try and get the children out," Winton said.
The Czechs have repeatedly nominated Winton for the Nobel Peace Prize.