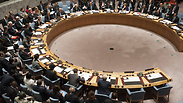 UN Security Council
Photo: AFP
The Palestinians asked the UN Security Council on Wednesday to demand that Israel immediately reverse plans to build more Jewish settlements, at an emergency meeting called to address tensions in East Jerusalem.
The 15-nation council met for urgent talks at Jordan's request after Israel announced plans on Monday to build 1,000 new settler homes in East Jerusalem, which the Palestinians consider the capital of a future state.
"Israel, the occupying power, must be demanded to cease immediately and completely its illegal settlement activities throughout the occupied Palestinian territory, including East Jerusalem," said Palestinian ambassador Riyad Mansour.
Mansour said Israeli settlements were eroding the future Palestinian state, of which East Jerusalem is to be the capital.
"Every day the territorial contiguity and integrity of our state is being fragmented and undermined by such illegal actions, seriously diminishing the viability of the two-state solution," he said.
He also complained about Israel's approach to Jerusalem, including holy sites like the Temple Mount and al-Aqsa mosque.
"Jerusalem is under siege," Mansour said, adding that Israeli provocations at al-Aqsa and Dome of the Rock mosques were "threatening to incite yet another cycle of violence."
The meeting gave council members a chance to vent about the complicated tensions and point out that such settlements are a breach of international law, but diplomats said a Security Council statement condemning Israel was unlikely given the United States' reluctance to criticize Israel.
Washington used its UN veto power in 2011 - the only veto wielded by President Barack Obama's administration - to quash a resolution condemning Israeli settlements.
Speaking to the council, top UN official Jeffrey Feltman said the Israeli practice of moving settlers to Palestinian territories was "in violation of international law" and runs counter to a two-state solution of a Palestinian state alongside Israel.
"If pursued, these plans would once again raise grave doubts about Israel's commitment to achieving durable peace with the Palestinians as the new settlements threaten the very viability of the future State of Palestine," Jeffrey Feltman told the meeting.
Feltman suggested more Security Council action on the issue, and he pushed both sides to commit to meaningful negotiations. The latest push for talks, led by US Secretary of State John Kerry, failed.
Israel's latest push for settlements followed weeks of skirmishes between Palestinian youths and police in East Jerusalem over fears that Israel wanted to restrict access to the al-Aqsa mosque, Islam's third holiest site.
Feltman called for a de-escalation of tensions, saying that sides "can ill-afford" to inflame tensions so soon after the devastating Gaza war, which left more than 2,000 Palestinians dead.
Israel's ambassador shot back, rejecting suggestions that settlement building jeopardized peace and he accused the United Nations of "playing second fiddle" to a Palestinian "campaign to vilify" his country.
Dismissing Mansour's criticisms, Israeli Ambassador Ron Prosor told council members that the Palestinians were propagating "half truths, myths and outright lies about Israel."
"I'm here to convey one simple truth: The people of Israel are not occupiers and we're not settlers," he said. "Israel is our home and Jerusalem is the eternal capital of our sovereign state."
He held up a Bible, which he said detailed 4,000 years of Jewish history in Israel.
"Jerusalem had a Jewish character long before most cities in the world had any character," Prosor told the council.
"There are many threats in the Middle East, but the presence of Jewish homes is not one of them," Prosor said.
Prosor also rejected criticism of Israeli settlements.
"It says a great deal that the international community is outraged when Jews build homes in Jerusalem but doesn't say a word when Jews are murdered for living in Jerusalem," he said. "The hypocrisy is appalling."
Asked by reporters about Feltman's call for Security Council action, Prosor told reporters: "Any attempt to force things from the outside will never succeed."
The US, meanwhile, told the council that Israel's latest settlements plans are "deeply concerning," saying any settlement activity "will already escalate tensions at a time they are already tense enough."
The US also urged both sides to refrain from "provocative actions."
The Associated Press, Reuters and AFP contributed to this report.