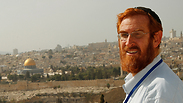 Rabbi Yehuda Glick
Photo: Atta Awisat
Rabbi Yehuda Glick, a prominent right-wing activist, was shot at point blank range outside the Menachem Begin Heritage Center in Jerusalem on Wednesday night.
Glick, 50, was shot in his upper body by a motorcyclist during an annual event organized by the Temple Mount and Eretz Yisrael Faithful Movement.
Magen David Adom paramedics evacuated him to the Shaare Zedek Medical Center in critical condition with injuries to his chest and abdomen. He was operated on and was in stable condition. Doctors said he will have to undergo an additional operation in the morning.
The event, "Israel Returns to the Temple Mount," was attended by MKs and notable right-wing activists, among them Deputy Minister Eli Ben Dahan, MK Moshe Feiglin, MK Miri Regev and Hagai Ben Artzi - Prime Minister Benjamin Netanyahu's brother-in-law.
Police spokesman Micky Rosenfeld said police had set up roadblocks and were searching for the suspect.
The shooting threatens to further heighten tensions in Jerusalem, which has been fraught lately with clashes between Palestinian protesters and police.
Prime Minister Benjamin Netanyahu held a security consultation with Interior Security Minister Yitzhak Aharonovich, Jerusalem District Police commander Moshe Edri and Shin Bet chief Yotam Cohen following the shooting.
He instructed them to give top priority to capturing the shooter and to significantly increase security forces in the capital.
"We all pray for Yehuda," Netanyahu said.
Glick is a central activist in Temple Mount movements and a symbol of the struggle for Jewish prayer on the Temple Mount. Police and the Shin Bet have often barred Glick from the Temple Mount and he has been fighting legal battles against Israeli law enforcement authorities against these bans, some of which have been successful.
At the conference on Wednesday night, Glick presented a video filmed on the Temple Mount on Wednesday morning that shows Palestinians trying to scare the Jewish visitors away with "Allahu Akbar" calls. "This is the situation in Jerusalem today," he said.
MK Feiglin gave a witness account to the police, and later told reporters: "The would-be killer turned to (Glick), confirmed in Hebrew with a thick Arab accent that this was indeed Yehuda and shot several bullets at him from point blank."
"The writing was on the wall, the ceiling and the windows. Every Jew who goes up to the Temple Mount is a target for violence," said Feiglin, who pledged to visit the Temple Mount on Thursday morning, a move seen as a provocation by Palestinians. Palestinian President Mahmoud Abbas has recently called for Jews to be banned from the site.
Feiglin told Ynet earlier:"What happened is horrible but very expected. Glick was constantly threatened. The fact that he was not assigned protection at all times is a failure. I say this as someone who is the target of constant incitement. Weakness and incompetence were behind this attack. This was a relaxed conference, the room was half full. This was not an impassioned event. An Arab came there with the urge to kill."
Shai Malka, Feiglin's spokesman, recounted the moments just before the attack: "I stood next to him. The conference was over and he went outside to load his car. Next to it stood a Palestinian motorcyclist wearing black. I saw his gun and I yelled to the woman with me 'run, escape.' We started running. The Palestinian said to him: 'Sorry, I have to do this,' and shot him."
MK Regev spoke at the conference on Wednesday and left the event a few minutes prior to the shooting. "It was a quiet conference about the rights of Jews to come to the Temple Mount and pray there," she said. "An attack in the center of Jerusalem close to the Menachim Begin Heritage Center is an escalation of attacks on personal security. Whoever does not fight for security there, will in return get terror in all of Israel."
Deputy Minister Dahan left the conference about an hour before the shooting: "I spoke about the security situation in Jerusalem, and said the lack of control and order marks the loss of our sovereignty in the capitol. If the situation is deteriorates we will lose power."
Economy Minister Naftali Bennett said of the assassination attempt: "Something has happened in Israel. An assassination attempt in the heart of Jerusalem on a public figure is a crossing of a red line drawn in blood. Security is not brought with words but with deeds, and I call on the prime minister to restore the sovereignty of Israel and its capitol and immediately."
A Magen David Adom paramedic, Aharon Adler, that treated Glick, said, "When we arrived at the scene was saw a 50-year-old man lying on the ground, he was conscious and suffered several gunshot wounds to his upper body. We quickly took him to the hospital in serious condition. At the hospital he was sedated, attached to a respirator and taken to surgery."
Right-wing activist Yehuda Etzion, a friend of Glick's, was at the conference and, upon hearing of the assassination attempt, arrived at the hospital.
"I was at the conference until it ended and then I left, while Yehuda (Glick) remained behind. I got back to Ofra and heard of the incident, so I came here," he said.
Etzion said Glick has been receiving both direct and indirect threats for the past two years "by the waqf's men and the Islamic Movement."
"They incite against him and they're organized in their intelligence collection. They circulated photos of him with a target on his face," Etzion went on to say.
Palestinians were shooting fireworks in Jerusalem's Old City in celebration of the assassination attempt on Glick's life.
Kobi Nachshoni, Moran Azulay and Roi Mandel and the Associated Press contributed to this report.