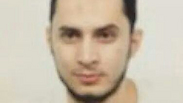 Muataz Hijazi, shot and killed by police forces
Security forces on Thursday morning shot and killed the suspect involved in last night's shooting of right-wing activist Rabbi Yehuda Glick. The suspect has been named as Muataz Hijazi, a former Palestinian prisoner and Islamic militant. According to a police source, Hijazi was killed in a shootout with an elite Border Guard counter-terrorism unit (Yamam).

According to Palestinian sources, Hijazi was arrested for involvement in terrorist activities during the Al-Aqsa Intifada in 2002 and was sentenced to ten years in prison. He was released in 2012.

Security forces are investigating whether Hijazi was the terrorist who shot IDF soldier Chen Schwartz near Jerusalem's Mount Scopus in July, on the same day in which a tractor attack took place in the city, during Operation Protective Edge. At the time, Hijazi had worked at a restaurant near the site of the attack and police believe he acted alone, and not with other movements.

Rabbi Yehuda Glick, a prominent right-wing activist, was shot at point blank range outside the Menachem Begin Heritage Center in Jerusalem on Wednesday night.

The gunman approached Glick and spoke to him in "heavy Arabic-accented Hebrew," according to Moshe Feiglin, a lawmaker with the Likud party.

Glick, 50, was shot in his upper body during an annual event organized by the Temple Mount and Eretz Yisrael Faithful Movement.

"Anti-terrorist police units surrounded a house in the Abu Tor neighbourhood to arrest a suspect in the attempted assassination of Yehuda Glick, immediately upon arrival they were shot at. They returned fire and shot and killed the suspect," police spokesman Micky Rosenfeld said.

Palestinian sources claim that police later arrested the suspect's father and brother.

The Shin Bet said that "in an intensified operation by the Shin Bet, in cooperation with a unit of Yamam and Jerusalem police, the suspect involved in the attack, a 32-year-old Palestinian from Abu Tor, was located. During an arrest attempt, the suspect opened fire at the forces using a weapon that was in his possession. The forces returned fire, killing the suspect."

Hihazi had been employed at the Terasa restaurant in Jerusalem's Begin Center, outside of which Glick was shot. A shift manager that spoke with Ynet said that he had let Hijazi go at 9:40 pm, half an hour before the shooting took place.

In an interview following his release from the Israeli prison, Hijazi said: "I'm glad to be back in Jerusalem. I hope to be a thorn in the Zionist plan of Judaizing Jerusalem. What makes me most happy is to return to Jerusalem, to Bait al-Maqdis, to be among my family and people."

Defense Minister Moshe Yaalon reiterated accusations against Abbas in a statement Thursday.

"The assassination attempt of Yehuda Glick is another serious step in the Palestinian incitement against Jews and against the state of Israel," Yaalon said. "When Abu Mazen (Abbas) spreads lies and venom about the rights of Jews to worship in their land the result is terror, as we saw yesterday."

Following the attack on Wednesday, Magen David Adom paramedics evacuated Glick to the Shaare Zedek Medical Center in critical condition with injuries to his chest and abdomen. Dr. Ofer Merin of Jerusalem's Shaare Zedek Medical Center said that Glick had arrived last night with gunshot wounds from four bullets.

"The bullets hit him in the neck, chest, stomach and hand. He arrived in serious condition and was treated in the trauma room," he said. "He was then transferred to the operating room and (medical teams) performed life-saving operations on him. We found that he was wounded in his lungs, and we had to operate on his chest and remove part of his lungs."

Glick underwent an operation on Thursday morning as well, in order to prevent infections. "His blood pressure is good, and he was put on a respirator and anesthetized. We do not yet know with certainty the full extent of his injuries. Our plan is to operate on him again tomorrow," Dr Merin said.

The event at the Begin center, "Israel Returns to the Temple Mount," was attended by MKs and notable right-wing activists, among them Deputy Minister Eli Ben Dahan, MK Moshe Feiglin, MK Miri Regev and Hagai Ben Artzi - Prime Minister Benjamin Netanyahu's brother-in-law.

The Jerusalem holy site has been a flashpoint for violence in recent months and has been fraught lately with clashes between Palestinian protesters and Israeli police. In an effort to calm tensions, police said it has taken the unusual step of temporary closing access to the site.

The site known to Jews as Temple Mount and to Muslims as Noble Sanctuary is an elevated marble and stone compound. It is the third-most sacred site in Islam and the holiest in Judaism, where two ancient Jewish temples once stood.

It contains the 8th century al-Aqsa mosque and the golden Dome of the Rock, where the Prophet Mohammad is said to have ascended to heaven.

Israel maintains that it allows free prayer to all, but Palestinians claim it is unilaterally widening access to accommodate larger numbers of Jewish worshippers. The Palestinians see this as Jewish encroachment on the site, the holiest in Judaism and the third holiest in Islam, while Jewish activists like Glick say they are being discriminated against by limiting their chances to pray atop the mount.

There was a heavy police deployment in the East Jerusalem neighbourhood of Silwan, adjacent to the Old City, and a helicopter circled overhead.

Tension has risen steadily in the eastern side of Jerusalem since just before a Gaza war that ended in August, with almost nightly clashes between Israeli security forces and Palestinian protesters throwing rocks and petrol bombs.

A major focus of Palestinian anger in the past few weeks has been Jewish settlers moving into largely Arab neighbourhoods and increasing numbers of visits by Orthodox Jews, including some politicians, accompanied by Israeli police to the sacred compound in the Old City.

Glick is a central activist in Temple Mount movements and a symbol of the struggle for Jewish prayer on the Temple Mount. Police and the Shin Bet have often barred Glick from the Temple Mount and he has been fighting legal battles against Israeli law enforcement authorities against these bans, some of which have been successful.

Elior Levy, Omri Ephraim, Yoav Zitun and Associated Press contributed to this report.